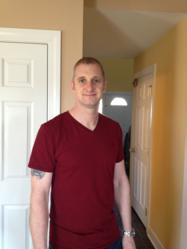 CrossFit changed my life.
Albany, NY (PRWEB) April 24, 2013
Albany CrossFit and Crossfit Clifton Park, part of a worldwide movement that is changing the way people think about diet and fitness, today announced that its 90-day Paleo diet challenge has been won by Dave Wilkinson, a 38-year-old engineer who lost more than 30 pounds and 8 inches from his waistline.
"CrossFit changed my life," says Wilkinson.
Once an accomplished "real football" player who played just below the semi-pro level in his native England, Wilkinson had ballooned to more than 240 pounds after moving to the U.S. five years ago and experiencing the pleasures of the American diet and the demands of a busy work and family schedule.
Wilkinson knew he had to do something to get back in shape. He found running on his own five days a week boring. A neighbor suggested CrossFit. Wilkinson found at CrossFit Clifton Park the camaraderie and teamwork he remembered from his football days.
But it wasn't easy at first.
Wilkinson says his first workout with coach Jason Murphy "wasn't a pretty sight." He says he can't even remember what that workout was, but does remember he couldn't finish it and took 20 minutes to recover before getting in his car to drive home.
But he stuck it out. Wilkinson began with six personal training sessions and then joined regular classes. "I'm a very determined person," says Wilkinson.
Wilkinson lost 31 pounds during the 90 day Paleo Challenge, on top of the 10 pounds he'd previously lost. His body fat percentage dropped from 28% to 15%.
Wilkinson also recorded big performance increases in benchmark workouts. He can now row 10 kilometres in 37:30, back squat 315 pounds, and do 103 burpees (that include a six inch jump) in seven minutes. Wilkinson is also off to a good start with the very technically demanding Olympic lifts; he can snatch 130 pounds.
It's pretty good progress for someone who first walked into CrossFit Clifton Park in December 2012 and calls himself "a pasty skinned English guy" who used to be too embarrassed to take off his shirt.
But time have changed. "Paleo is the best thing that could have happened" to Wilkinson, his wife Kathleen wrote on Facebook. The kicker? Kathleen has now also become a CrossFitter.
Jason Ackerman, owner of Albany CrossFit and CrossFit Clifton Park, isn't surprised. "We suspected we were on to something when over 50 of our members signed up for the challenge, but we were completely blown away by the results. Our members banded together to form a remarkable support system. David Wilkinson's success story is just one of many."
Wilkinson cites another factor: his coach, Jason Murphy. "Jason was always there for me. I would often text and he always replied quickly, constantly encouraging me."
Albany CrossFit and CrossFit Clifton Park Paleo Challenge participants recorded improvements in diet, athletic performance and body composition and posted social media updates about their experiences.
As the winner, Wilkinson will receive a free one-year membership."But this is not really about winning or losing a competition," said Caleb Nelson, another coach at Albany CrossFit. "That's not what drove everyone. It's really about becoming your best self. Our participants ended up happier and healthier. That's the real win."
The Albany CrossFit gym began modestly over five years ago in cramped and shared space with a handful of members. It expanded to a second location in Clifton Park two summers ago, then expanded its original location. Together, both gyms have over 500 members.
Why the success for a demanding diet and workout regimen?
"It's the community feeling and the caring," says Albany CrossFit and CrossFit Clifton Park owner Jason Ackerman. "We treat everyone who walks through the door like an athlete, regardless of their current fitness level, and our members are great about encouraging each other."
The Paleo diet was part of that journey. It consists mostly of fish, grass-fed pasture raised meats, vegetables, fruit, roots, and nuts. Grains, legumes, dairy products, salt, refined sugar, and processed oil are excluded.
CrossFit workouts focus on natural and functional movements and are different every day. Every workout is coached and the coaches scale the workouts to accommodate different ability levels. CrossFit uses barbells, kettlebells, pull up bars and many body weight movements including squats and pushups.
And it's a bit like the TV series "Cheers": everyone knows your name. Members strike up friendships, go out together and travel together. A few have even gotten married.