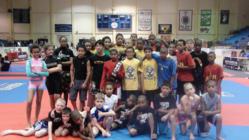 Temple Hills, MD (PRWEB) April 25, 2013
Lloyd Irvin Martial Arts Academy will be opening its doors for Summer Camp for the 10th consecutive year. The Team Lloyd Irvin Kids Summer Camp program has been a staple program in the Prince George's County Community.
Discounted rates are available for current after-school kids and previous summer camp attendees. All the kids at Lloyd Irvin Martial Arts look forward to Summer Camp. The summer program includes daily field trips (Six Flags at least once a week), martial arts training, manners and etiquette classes, and the End of Summer Performance.
The End of Summer Performance is a summer-long friendly competition. Each camper is assigned to a team at the beginning of the camp. The teams compete in skills drills, martial arts drills, educational competitions, and so forth, through the summer. At the End of Summer Program, the teams compete to see who's the best overall.
To enroll your child or for more information, call 301-449-KICK, and ask about the Lloyd Irvin Martial Arts Summer Camp.