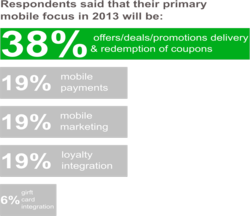 Our members, as key technology influencers in their organizations, realize that integrating mobile solutions into their IT strategy is no longer a wish list item, but a necessity.
Sarasota, FL (PRWEB) April 24, 2013
The International Retail User Group (IRUG) and MobileBits (OTCBB: MBIT) announced today the results of their 2013 Mobile Strategy Survey targeting leading retail IT decision makers and members of IRUG who represent the top 100 retailers in the United States. Among the findings and highlights of the survey, respondents indicated that an integrated mobile strategy, specifically including mobile marketing and customer engagement are high priorities. Further, the survey indicates that retail technology teams are viewing mobile, mobile marketing and payment solutions, such as EMV, as an integrated solution in order for the entire platform to be scalable and remain synchronized.
The survey revealed the top mobile marketing issues facing retailers:
1. Mobile strategy is a critical component of IT planning in the next 24 months
2. Almost 90% already or are planning a mobile strategy
3. 38% are focusing on mobile offers and promotional redemptions as their top priority
4. Software and systems integration is the biggest challenge to integrating a mobile strategy
5. Customer engagement leads the desired objectives of mobile strategy with customer service, increased revenue and operational efficiencies also being high priorities
"Our members, as key technology influencers in their organizations, realize that integrating mobile solutions into their IT strategy is no longer a wish list item, but a necessity," said Ervin Jones, Director of Marketing and Logistics for IRUG. "With the growing demand consumers are exhibiting using mobile devices as a preferred communication channel; our members are thinking about how to integrate EMV, mobile payments and marketing together into an all inclusive mobile strategy. The survey revealed that while there are priority levels, the mobile strategy must address all the elements".
The survey focused on understanding where key decision makers were in the process of planning and integrating various mobile functionality strategies into their IT planning process. The survey helped to identify the most relevant and pressing issues, challenges and timelines that organizations are currently facing. The data suggests the large majority are already incorporating or planning a mobile strategy and that direct consumer calls to actions (i.e. deals and promotions) are a top priority as part of that planning.
"The survey results reinforces our efforts as we continue to help merchants, retailers and businesses by providing them with the SAMY solution," said Brian Ehrlich, Director of Marketing at MobileBits. "It squarely addresses their mobile marketing needs and integration challenges by providing a complete turn-key solution that can be incorporated into almost any existing IT configuration."
To download a complimentary copy of the mobile marketing portion of the results, please click the following link 2013 MobileBits - IRUG Survey.
To learn more about MobileBits' SAMY solution, please visit http://www.samy.net.
To learn more about becoming a member of IRUG, please visit http://www.Intrug.org.
About IRUG
The International Retail Users Group has, for over thirty five years, provided a platform for hundreds of retailers and solution providers to advance retail systems technology. One of the last of the "true" user groups, it is owned and run by the representatives of the over 300 retail companies that make up its membership. The group focuses on advancing the state of the art of retail technology for all aspects of the retail enterprise. It is an independently-run, mutual benefit organization of retailers, and providers of retail solution products and services. For more information, visit us at: http://www.Intrug.org.
About MobileBits Corporation
MobileBits, provider of SAMY, the fast growing 'Mobile Mall' that enables any merchant, retailer or brand to connect with mobile consumers in their local area through various touch points and helps increase sales. The solution provides business a complete set of tools to connect with, create and manage mobile campaigns, deals, offers, loyalty and rewards to a subscribed mobile consumer. For more information, visit http://www.mobilebits.com or http://www.samy.net.