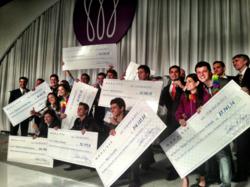 This was the first time I've participated in a MonaVie event, and now I fully understand the essence of MonaVie and what it represents to the world.
Salt Lake City, Utah (PRWEB) April 24, 2013
MonaVie, a global leader in premium nutrition products made from the rarest ingredients in the world, achieves new sales and recognition records at its Brazil Super Regional held at the Expo Transamerica in Sao Paulo, April 13, 2013.
With more than 7,500 in attendance, MonaVie reinforced its growing momentum in Brazil by recognizing a record number of distributors at newly achieved ranks, including 226 Bronzes, 184 Silvers, 76 Golds, 32 Rubies, 10 Emeralds, 5 Diamonds, 2 Black Diamonds, and 1 Presidential Black Diamond. Distributors were rewarded on stage for their sales efforts, with some receiving bonus checks of R$33.000,00 or more.
New Presidential Black Diamond
Marcus Clemente, one of the pioneers of MonaVie Brazil, received his Presidential Black Diamond pin and a check for R$721.777,51. "Success requires sacrifice, and we've sacrificed a lot to build for the future," Marcus said from stage. "MonaVie is a seed planted in our lives that we are continually watering. Do not let anyone steal your belief, your dream. With MonaVie, joy, and passion, you can help your friends succeed and you will also get there." MonaVie also celebrated the achievements of new Purple Diamond Executive Gabriela Dermino.
New Black Diamond Distributors Receive MonaVie Black Diamond Mercedes-Benz
At 25, Beto Carvalho became the youngest Black Diamond in MonaVie. He received recognition and keys to his new, black Mercedes-Benz on stage. Beto inspired the crowd when he said that success comes more from what is inside your heart than what is inside your head. "An unwavering belief is one of the keys to doing this business," he said.
Through hard work and dedication, Rodrigo and Aretha Berkembrock became Black Diamonds in exactly one year! For their efforts, they also received a Mercedes-Benz convertible on stage. Rodrigo and Aretha told the audience to have a dream and a why that is much bigger than your fears. "We love what we do," they said, "and that is what drives us every day."
The Super Regional came on the heels of the biggest sales month ever in MonaVie Brazil history. In March 2013, Brazil distributors set a new sales record. In fact, MonaVie Brazil has grown by 145% when compared to March 2012. MonaVie Brazil General Manager Eduardo Frayha and the Brazil distributor leaders are looking to make MonaVie Brazil an R$1 billion business by 2014.
About MonaVie
Since 2005, MonaVie has created premium, all natural products dedicated to promoting health and wellness worldwide. With distribution in more than two dozen markets, MonaVie brings you antioxidant-packed health juices, nutrient-rich weight solutions, and revitalizing energy drinks made from the best and rarest ingredients on Earth. The products, in conjunction with MonaVie VIEW Antioxidant Scanner, empower people to live healthier, more meaningful lives. That greater meaning is revealed through our heartfelt commitment to doing good in the world and by helping children and families in need through MORE Project. Start living A More Meaningful Life today and discover the true, life-changing power of MonaVie. Learn more at http://www.monavie.com, or connect with us via our Social Networking sites.