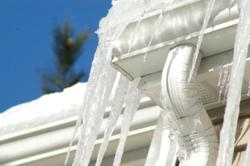 Your home is your most valuable possession! Make sure to do the proper annual maintenance to lengthen the life of your home.
Colorado Springs, CO (PRWEB) April 25, 2013
Now that the warm weather is here have a professional inspect your roof and gutters, especially if you had any ice dams form during the winter.
A roof is the prime protection for your home. And very costly to replace! The roof and gutters redirects water, rain and snow away from your home to keep the walls and foundation safe from water damage.
An ice dam is ice that forms at the edge of your roof in the gutters or soffits. When an ice mound forms, water will back up behind the mound of ice and creates a pool of water. The water can then leak into your home and cause damage to the insulation in your attic, your ceiling, walls and other areas of your home. Insulation getting wet can cause mold to develop. Water in your home can cause water stained ceilings or eventually this can cause serious structural damage or foundation issues, if not detected.
What Causes an Ice Dam:
When there is a serious of snow fall and it accumulates on your roof and you lack proper insulation in your attic, the warmer air from your attic causes the snow to melt and trickle down your home. When it reaches a colder area like in the gutters and soffits, it freezes again. Due to this cycle repeating throughout the day, this is what forms an Ice Dam.
How to prevent Ice Dams:
1. Make sure that your attic has proper insulation and ventilation
2. Make sure to clean your gutters from debris in the spring and fall. Frozen debris in your gutters will also cause water dams to form
If you had ice dams this past winter be sure to have your roof and gutters inspected. A professional will be able to advise you if you had any damage to your home.