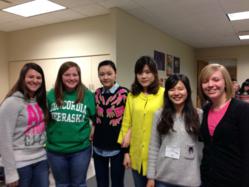 This was the first time any of these visitors were in the U.S., so this was a great way to show them life in the U.S., Nebraska and Seward.
Seward, Neb. (PRWEB) April 25, 2013
Nine students and two faculty members from Nantong University in Nantong, China, visited Concordia University, Nebraska April 15-19.
While Concordia has hosted visitors from Nantong University in the past, this group of students was entirely new and was accompanied by a new contact person as well.
"This was the first time any of these visitors were in the U.S., so this was a great way to show them life in the U.S., Nebraska and Seward," said Julie Johnston Hermann, director of international opportunities at Concordia University, Nebraska. "We got to make a good first impression on behalf of the U.S."
After leaving Concordia, the students were set to visit New York and San Francisco before returning home to Nantong.
While on campus, the visitors participated in classes, toured the local community and met with various groups on campus, including a team of Concordia students who will be leading an English camp in Shenzhen, China, this summer.
Hermann said the number of students from Nantong interested in visiting the U.S. is increasing. This was the largest group of students from Nantong University to visit Concordia so far. A Nantong student will study at Concordia during the upcoming fall semester, and a professor will also visit for a few months in the fall.
Nantong, located on the Yangtze River Delta near the coast of eastern China, is home to almost eight million people. The university has 30,000 full-time students and the mission of "Bridging China and the West, Striving for the Best."
In the fall of 2012, Concordia University, Nebraska began offering courses in first-year Mandarin Chinese. Enrolled students learn about the culture of the People's Republic of China in addition to adding language skills. The Mandarin instructor is a native of Taiwan and is working toward a master's degree in education while at Concordia Nebraska.
The lessons in language and culture are intended to open doors personally and professionally for Concordia students. The number of Mandarin Chinese speakers across the globe is roughly 1.3 billion.
Concordia University, Nebraska, founded in 1894, is a fully accredited, coeducational university located in Seward, Neb. that currently serves over 2,100 students. Concordia offers more than 50 professional and liberal arts programs in an excellent academic and Christ-centered community that equips men and women for lives of learning, service and leadership in the church and world. For more information, visit cune.edu.