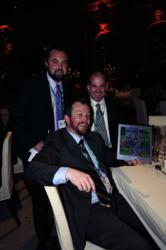 Seattle, WA (PRWEB) April 26, 2013
NexTec Group, a Sage Authorized Partner, was recognized by Sage during the Sage ERP X3 Global Convention 2013 in Berlin, Germany. During the event, an Awards Ceremony was held over dinner at the German Historical Museum to honor Business Partners and acknowledge their key contribution as members of the Sage ecosystem.
"It is a real pleasure for me to award NexTec Group our Growth Acceleration Award for Sage ERP X3," states Pascal Houillon, President & CEO, Sage North America. "For Sage, it is important to recognize the Business Partners who invest successfully to grow their business with us. The partner who is awarded made a strategic decision to focus their ERP investments and growth with Sage ERP X3. Through talent acquisition and repurposing across 7 offices, they expanded their resources from a dedicated team of 3 resources in 2011 to 10 in 2012. In addition to those dedicated resources, 29 additional resources have added certifications. This focus and expansion contributed to accelerated growth of 250% in number of new customers, and a growth of 300% in license revenue. For the Growth Acceleration Award, we welcome Eric Frank from NexTec Group!" adds Pascal Houillon.
"NexTec is honored to be recognized as the Global Sage ERP X3 Growth Acceleration Partner for 2013. The award represents a significant milestone in attaining our goal to be the largest and most successful X3 consultancy in the US," said Eric Frank, President, NexTec Group.
About NexTec Group
Founded in 1994, NexTec Group has a team of more than 70 employees in 7 offices Nationwide. We specialize in providing mid-sized companies with financial; enterprise resource planning (ERP); Customer Relationship Management (CRM), Budgeting, Forecasting and Planning solutions tailored to their specific industry and functional needs. Our suite of solutions includes Sage ERP X3, Sage 500 ERP, Microsoft Dynamics AX, Microsoft Dynamics GP, Microsoft Dynamics SL and Microsoft Dynamics CRM. We leverage these industry standard technologies and integrate our products with best-of-breed reporting and analytical tools to deliver robust, affordable end-to-end application solutions suited to your business. For more information about NexTec Group, our solutions and our technical consulting and implementation services, please visit: http://www.nextecgroup.com.
About Sage ERP X3 Global Convention 2013
The Sage ERP X3 Global Convention offers the unique opportunity to bring Sage's ecosystem together. On an annually basis, the event is designed to allow their business and industry-leading partners, Sage employees and product experts to learn, share and network through keynotes, intensive breakout sessions and the exhibition floor.
About Sage ERP X3
Sage ERP X3 is a world class ERP that is easy to use, cost effective and rapid to implement. It can integrate the information and processes from across the enterprise into one common system and present it via a simple interface. This gives a complete view of the business and customers in real time - a view that reflects the total footprint (multi-site, multi-company and multi-language). It will help customers be responsive, while ensuring they are supported by hard facts. Decisions can then be implemented, evaluated or refined quickly, ensuring that the company operates as efficiently and effectively as possible.
Sage ERP X3 is a dedicated solution for Mid-Market companies and subsidiaries of large groups with international demand. Sage ERP X3 has a presence in 60 countries, over 4,000 customers worldwide, an ecosystem of 260 partners and a network of more than 2,000 Sage Professionals.
Press Contact | NexTec Group
Brian Naftzger, Marketing Manager
Phone: 330-598-2400