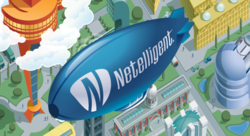 Netelligent is proud to return as a premier sponsor for the Gateway to Innovation Conference. As a recognized leader in the IT Industry
St. Louis, Missouri (PRWEB) April 24, 2013
Netelligent Corporation, a technology and cloud service company is excited to be one of several sponsors at the Gateway to Innovation Conference held in St. Louis, MO.
The Gateway to Innovation Conference allows Technology leaders to continually grow their innovative minds and share their technology expertise with other leaders across the nation. The conference offers guest speakers, breakout sessions, and other activities for the attendees. The conference has grown to over 800 attendees in recent years. The Technology Industry has significantly grown in the St. Louis region over the last several years. It is no surprise that the Gateway to Innovation Conference is held here each year.
"Netelligent is proud to return as a premier sponsor for the Gateway to Innovation Conference. As a recognized leader in the IT Industry, this conference will allow us to collaborate with peers and technology leaders from around the nation. St. Louis continues to shine as is one of the leading areas in technology advancement. We are proud to call St. Louis home and appreciate the continued investments in the region further demonstrating that this conference is held in the right city," Says Steve Busselman, Vice President of Sales at Netelligent.
About Netelligent
Netelligent Corporation is a technology solutions company. Netelligent provides companies with the basic technologies they need to run their business (phone system, Servers/Virtualization, networking, video). Netelligent's mission is to help elevate business above technology. Netelligent takes a neutral approach in helping to determine what IT consumption model best benefit's each client organization (on-premise, managed, or cloud). Founded in 2003 and headquartered in Chesterfield Missouri, they are Cisco Master Cloud & Managed Services Certified, a Cisco Master Unified Communications Certified Partner and ITIL & SOC II Certified. Additional information about Netelligent can be found through their website at http://www.netelligent.com.