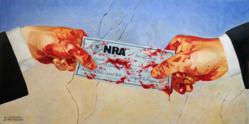 "This is the most egregious example of special interests subverting our democracy."
Washington, DC (PRWEB) April 24, 2013
Provocative activist artist Michael D'Antuono is once again painting legislators in an unflattering light. Inspired by the failed Gun control bill, the artist released his latest painting, "Blood Money." In a pose reminiscent of Michaelangelo's Creation, D'Antuono's piece portrays what one would assume is the bloodied hand of the gun lobby handing a bloodstained check to a senator. The date on the check appears to be the day the bill was killed and the memo line reads "for killing gun control bill."
The hard hitting piece takes no prisoners. "I'm calling out the 45 senators for having usurped the will of the people (90%) to protect gun manufacturers' profits" said D'Antuono, "This is the most blatant and egregious example of special interests subverting our democracy."
The artist hopes that the oil painting, which will be featured at the Silent No More March on The Lobbyists event in Washington on Thursday, April 25th, will serve to inspire people to fight the kind of corruption that he feels led to the bill being killed.
This is just one of D'Antuono's paintings to challenge people to think more deeply about serious issues. His art has been known to create public discourse on many topics. You can see more of the artist's work at http://www.ArtandResponse.com.