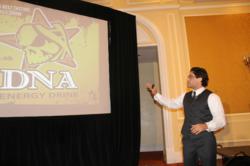 San Francisco, California (PRWEB) April 24, 2013
Financial Services Exchange, Inc. (FSX), the premiere Investment Conference organization in the US, is fully booked for their 119th Investment Conference in San Francisco, California, Ritz Carlton from April 25-27 and will commence formal presentations tomorrow.
FSX Executive Director, Judy Ensweiler has confirmed that registrations for tomorrow's events are closed and that private and public companies seeking a raise of capital or exposure, should register today to ensure space to present at the next FSX event in Fort Lauderdale from July 25-27 at the Ritz Carlton Hotel.
The following companies will be presenting tomorrow at the Ritz Carlton in San Francisco.
AirWare Laboratories
Atossa Genetics, Inc.
Bermuda Stock Exchange
Bion Environmental Technologies, Inc.
CopyTele, Inc.
CXO Collective
Emmi Ultrasonic Inc.
ForceField Energy, Inc.
Galectin Therapeutics
Growums
Intelligent Highway Solutions, Inc.
Interlinked
Interpreters Unlimited
Madison Realty Homes Recovery, LLC
Mag-Lok Tools, Inc.
Meggatel Corportaion dba, Mega-Mobile PCS
North American Senior Properties, LP
Passo Companies, LLC
Payson Petroleum
PrOne, Holdings, Inc.
pSivida
Semler Scientific, Inc.
Solar Wind Energy Tower
Vehicle Occupancy Detection Company
Vuzix Corporation
FSX holds investment conferences four times a year in a different major U.S city where emerging growth companies connect with a nationwide network of financial investment professionals. FSX brings the CEOs and other executive officers of the Presenting Companies together with the principals and key decision makers of the broker/dealers and other financial firms. FSX provides a forum where presenting company CEOs seeking capital and/or market support can go to showcase their companies in a dedicated environment that is conducive to networking and building financial relationships. Billions of dollars have been raised for companies at FSX Investment Conferences to date.
About FSX
FSX is one of the most reputable and established national alliances in the country for the independent broker/dealer network, providing education and opportunity. At each FSX conference, we bring the CEOs and executive officers of the presenting companies together with the principals and key decision makers. For more information go to http://www.fsxinterlinked.com.
About Interlinked
Interlinked is designed to be the most efficient and powerful system available in assisting its members in finding one another, building relationships and ultimately do business together. Interlinked is a private network and it is not open to the public. You must be invited or apply to be part of the community. Our proven process utilizes four primary systems: one, through our custom automated campaigns (IRocket), second through media InterlinkedTV, thirdly our Ideal room, fourth, through our relationships with strong partners and events. For more information go to http://www.interlinked.com.
Safe Harbor Statement
This press release may contain information that constitutes forward-looking statements made pursuant to the safe harbor provisions of the Private Securities Litigation Reform Act of 1995. All statements, trends, analysis, and other information contained in this press release, including words such as "anticipate," "believe," "plan," "estimate," "expect," "intend," and other similar expressions of opinion, constitute forward-looking statements. Any such forward-looking statements involve risks and uncertainties that could cause actual results to differ materially from any future results described within the forward-looking statements. Risk factors that could contribute to such differences include those matters more fully disclosed in the Company's reports filed with the Securities and Exchange Commission. The forward-looking information provided herein represents the Company's estimates as of the date of the press release, and subsequent events and developments may cause the Company's estimates to change. The Company specifically disclaims any obligation to update the forward-looking information in the future. Therefore, this forward-looking information should not be relied upon as representing the Company's estimates of its future financial performance as of any date subsequent to the date of this press release.