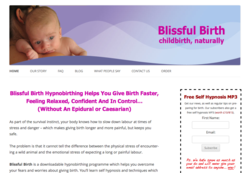 Blissful Birth has fans from all around the world, and with the 7th anniversary of the programme just around the corner, we thought it was a great time to freshen up our website and give it a more modern feel
London, UK (PRWEB UK) 24 April 2013
Blissful Birth revealed their new look website this week.
The downloadable hypnobirthing class, which was created in 2005, teaches expectant mothers self hypnosis to help them prepare for childbirth.
Blissful Birth is the creation of husband and wife team, Rob and Heidi Woodgate, who are both Cognitive Hypnotherapists and members of the National Council for Hypnotherapy.
It teaches the expectant mother to stay relaxed and calm during pregnancy, labour and birth. This makes for a less stressful time all-round, and most importantly for the unborn baby. Research has shown that the calmer the expectant mother is, the more beneficial it is for the baby.
Blissful Birth is far more than just teaching the expectant mothers to stay calm. It helps them to understand what their body is going through and what to expect. It allows the mother to understand why their body is doing the things it is and helps them to keep in mind that childbirth is a natural part of life and it does not have to be painful.
As the name suggests, Blissful Birth aims to empower expectant mothers so they can enjoy the experience without the levels of stress and pain so often portrayed in the media.
Heidi Woodgate, says, "Blissful Birth has fans from all around the world, and with the 7th anniversary of the programme just around the corner, we thought it was a great time to freshen up our website and give it a more modern feel."
"Some of our customers have been using the programme since we started, and are now on their third or fourth child using the techniques we teach."
This programme has proven itself time and again to help expectant mothers have a natural birth experience, and it is an ideal partner to traditional antenatal classes.
Rob Woodgate is also the co-creator of the Hypnotension Programme, which helps people with high blood pressure.
The Hypnotension™ Programme looks at a variety of lifestyle factors to establish which is likely to be causing or maintaining high blood pressure (Hypertension). These lifestyle factors are then targeted using specific cognitive and hypnotherapeutic techniques to help reduce the clients blood pressure towards more normal levels.
Certified Hypnotension Practitoners are all fully qualified and insured hypnotherapy or NLP professionals, who meet the occupational standards for their country. The Hypnotension Programme is a hypnotherapy cpd course recognised by leading Hypnotherapy Professional Associations worldwide.