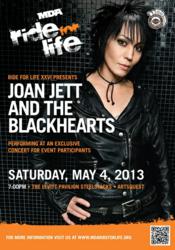 PHILADELPHIA, (PRWEB) April 24, 2013
The Muscular Dystrophy Association has announced that general admission tickets are now available to the public for the exclusive Joan Jett and The Blackhearts concert during the Eastern Harley-Davidson Dealers Association (EHDDA) 26th annual Ride for Life on Saturday, May 4.
This is the first time Ride for Life organizers have offered general admission tickets in order to share the one-of-a-kind Ride for Life experience with the local community.
Only a limited number of tickets are available for purchase for $70 from Tuesday, April 23-Saturday, May 4 at the ArtsQuest Center box office and online at tix.artsquest.org. Rain or shine, all ticket sales are final. Proceeds will benefit local families served by MDA.
Admission tickets for the two-day Ride for Life event, including the Joan Jett and The Blackhearts concert, are available for $40 by visiting a participating Harley-Davidson dealership. Click here for a full list of participating dealerships. Children ages 16 and under are admitted for free when accompanied by an adult Ride for Life participant.
Concertgoers who purchase tickets at a Harley-Davidson dealership also can become Ride for Life fundraisers by picking up a fundraising packet to raise money for MDA.
Ride for Life participants collecting donations will additionally qualify to be invited to ride in the MDA Parade of Heroes at the Milwaukee 110th Anniversary Celebration on Labor Day weekend. The top 110 riders who collect the highest contributions for MDA up until Aug. 1, 2013, will earn a spot, front and center, in the renowned parade.
For more information about Ride for Life XXVI, or for details on ticket sales and packet pickup, visit mdarideforlife.org or call the local MDA office at (610) 325-5758.
About Ride for Life XXVI
Thousands of motorcycles will ride through southeastern Pennsylvania on May 4-5 for Ride for Life XXVI. The legendary event is presented by EHDDA, and is just one of numerous events across the country throughout 2013 that will help Harley-Davidson celebrate its 110th anniversary.
All motorcycle brands are welcome, but you don't have to have a bike in order to join the two-day event that kicks off Saturday, May 4, 1 p.m., at the ArtsQuest Center at SteelStacks. Participants can enjoy live entertainment courtesy of "Wacky Chad," notorious for clowning around, charismatic jokes and crowd-pleasing pogo stick tricks, as well as live demonstrations by TV cooking show host Biker Billy from "Biker Billy Cooks with Fire."
Day one also will feature silent auctions, raffles, scenic rides, food and beverage vendors and — of course — the exclusive Joan Jett and The Blackhearts concert.
Day two begins with the parade of motorcycles. Staging begins at 8 a.m. at the Penn State-Lehigh Valley Campus, and will depart at 10 a.m. to the SteelStacks ArtsQuest Center where Ride for Life festivities will resume.
A 2013 Harley-Davidson Street Glide will be given away at the closing ceremony as well as a trip for two to the Harley-Davidson 110th Anniversary Celebration in Milwaukee on Labor Day Weekend. Visit MDARideforLife.org for a full schedule of events.
Ride for Life is the nation's highest netting Harley-Davidson fundraising event, and has raised nearly $17 million and has had more than 50,000 participants since it began in 1988.
The money raised from the event stays in the five-state area (southern New York, New Jersey, Pennsylvania, Maryland, Delaware and northern Virginia) to benefit MDA families affected by muscle disease.
Ride for Life organizers encourage all riders and non-riders to join the traditional event for a great cause.
For more information about the 26th annual Ride for Life event, contact MDA Fundraising Coordinator Jamie McKee at (610) 325-5758 or jmckee(at)mdausa(dot)org.
For up-to-date information about Ride for Life XXVI, follow us on Facebook (facebook.com/mdarideforlife) and Twitter (@MDARide4Life).
Harley-Davidson's 110th Anniversary
Harley-Davidson is celebrating its 110th anniversary in style with year-round rides and events connecting fans from around the world throughout 2013. The 110th anniversary experience features 12 events in 11 different countries across six continents, and will be capped by two main entertainment-packed celebration events in Rome and Milwaukee.
The Harley-Davidson 110th Anniversary European Celebration in Rome will feature a party in the Port of Ostia and a parade through the center of Rome. The top-five fundraising riders for MDA will be invited to join the celebration abroad with an all-expenses-paid trip from June 13-16, 2013.
Harley-Davidson fans will complete the yearlong festivities on Labor Day weekend at the Milwaukee 110th Anniversary Celebration. Keeping with tradition, the Parade of MDA Heroes will be featured in the Harley-Davidson 110th Anniversary Parade on Aug. 31 to showcase the generosity of Harley-Davidson riders and their passion for helping to provide independence for children and adults served by MDA.
The first 110 riders with the highest contributions for the Association will be invited to ride in the MDA Parade of Heroes section within the Harley-Davidson 110th Anniversary Parade. Participating riders can collect pledges and donations for MDA through any local Harley-Davidson dealer or at any H.O.G. ride for MDA nationwide.
The epic event also will feature three headlining concerts, a party on the shore of Lake Michigan, fan-organized rides and much more.
To learn more about Harley-Davidson 110th anniversary events that benefit MDA, visit mdarides.org.
About MDA
MDA is the nonprofit health agency dedicated to finding treatments and cures for muscular dystrophy, ALS and related diseases by funding worldwide research. The Association also provides comprehensive health care and support services, advocacy and education.
In addition to funding more than 250 research projects worldwide, MDA maintains a national network of 200 medical clinics; facilitates hundreds of support groups for families affected by neuromuscular diseases; and provides local summer camp opportunities for thousands of youngsters living with progressive muscle diseases.
For more information, visit mda.org and follow MDA on Facebook (facebook.com/MDAnational) and Twitter (@MDAnews).