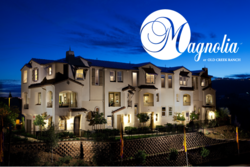 This is an unbelievable time to buy a home - Magnolia and Laurel at Old Creek Ranch offer excellent value
San Marcos, California (PRWEB) April 24, 2013
Old Creek Ranch in San Marcos by Cornerstone Communities combines great location with incredible value. This combination of value and location presents a fabulous opportunity for homebuyers to become part of the two very special communities at Old Creek Ranch - Magnolia and Laurel. Not surprisingly, both Laurel and Magnolia have experienced brisk sales of new homes from the day they opened. Due to the high demand and outstanding success of Magnolia and Laurel at Old Creek Ranch, they are expected to close-out a year ahead of the original projection.
At Laurel and Magnolia, buyers receive the features and amenities they expect. The gourmet kitchens feature granite countertops and stainless steel appliances. Air conditioning and a choice of Whirlpool® or Maytag® super-capacity washer and dryer are included in every home.
Laurel and Magnolia showcase Mission, Tuscan, Italianate and Craftsman inspired architectural exteriors. Luxurious interiors include an impressive master suite with walk-in closets, frameless beech cabinetry, and compartmentalized water closet. Every home includes contemporary recessed lighting. Homes also come with Cat-5e and RG-6 structured wiring in the living room, loft, and all bedrooms.
"This is an unbelievable time to buy a home, and Magnolia and Laurel at Old Creek Ranch offer excellent value" said Cornerstone president Michael Sabourin, adding that this market presents great opportunity for first-time home buyers who can take advantage of the decade's best prices and historically low interest rates.
Old Creek Ranch is positioned high above the amenity-rich corner of Rancho Santa Fe Road and Melrose Avenue. This ideal location offers convenient access to an array of shopping and services, as well as numerous restaurants.
All 195 homes at Magnolia feature a two-car garage, two to four bedrooms, two to three-and-a-half baths and some plans afford an optional loft. Residences range from 1,197 to 1,649 square feet; many include a private outdoor covered deck.
All 98 homes at Laurel feature a two-car garage, three bedrooms, two-and-a-half baths and a loft. Residences range from 1,650 to 1,775 square feet. An optional fourth bedroom in Residence 2 can replace the loft.
In addition to the vast amenities of the neighborhood, the community has several private recreation areas for resident's entertainment. The expansive main pool is the centerpiece of the community's largest recreational area. The pool cabana features bathroom and shower facilities. This recreational area also offers a spa and separate children's pool, which can be found at one end of the main pool, with a barbeque and dining area at the other end.
A private second spa is in an additional recreational area. This space is perfect for a relaxing soak away from the activities of the main recreational area. The playground occupies a third recreational space. With its rubberized soft surface and innovative design the playground guarantees the community's children many hours of active and fun playtime. Another recreational space features a large circular fire pit. With plenty of seating this space just begs for casual evenings filled with good conversation and good memories.
Cornerstone's Design Center offers a wide variety of options and upgrades to customize the home, including flooring, countertops, window coverings, cabinetry, advanced network wiring, expanded security systems, appliance upgrades and more.
About Cornerstone Communities:
The Cornerstone team has built over 10,000 homes within over 50 thriving communities in Southern California since 1983. They are currently offering San Diegans a full spectrum of homes and townhomes with seven active communities in Chula Vista, San Diego and San Marcos ranging from $209,990 up to $1.1 million.
Contact:
Magnolia at Old Creek Ranch
Dana Gaglione, Sales Manager
(760) 736-8098
2666 Rawhide Lane
San Marcos, CA 92078
Laurel at Old Creek Ranch
Pam Parks, Sales Manager
(760) 510-0137
2201 Sky Pond Lane
San Marcos, CA 92078
About Prime Lending:
Cornerstone Communities doesn't stop at building dream homes. Through their preferred lender, Prime Lending, they can help finance it as well. A wide range of home financing products and services can be explored with the guidance of a home mortgage consultant.
Prime Lending Contact:
Brian Sabourin
2173 Salk Avenue Suite 100
Carlsbad, CA 92008
Phone: (760) 795-0294
Fax: (866) 908-9034