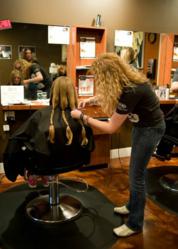 When I see children in need, right in my backyard, my company must get involved.
(PRWEB) April 24, 2013
There was a lot of activity on April 14th at all three of Root's Salon locations, a Milwaukee-based business. Like any other normal operating day, they were doing haircuts. But what made these haircuts so special is where the money and hair were being donated to. Cuts 4 a Cause is an event that benefits the Children's Hospital of Wisconsin and Penfield's Children Center, with all the money being raised going to them. The hair that is donated in turn goes to Locks of Love and Wigs for Kids.
This year marked the 6th year that Root's has been doing the event, and Diamond Nexus became involved this year in an effort to help raise even more funds. A pair of the companys earrings was donated so that tickets could be sold for the raffle of the item.
"When I see children in need, right in my backyard, my company must get involved," stated Gary LaCourt, CEO of Diamond Nexus. "We are proud to support Root's Salon for this worthy cause," said LaCourt.
The salon and Diamond Nexus have partnered together for past events, including the monthly Trunk Show that the jewelry company's Milwaukee retail location hosts. "I always look forward to the events we do with Root's Salon," explained Christina Waller, Event Marketing Coordinator for Diamond Nexus. "They are known throughout the community not just for their amazing stylists, but also for their truly charitable nature," stated Waller.
In an effort to add to the almost $9,000 amount raised from the April 14th event, the salon will be holding an additional fundraiser at Spin Milwaukee in the Historic Third Ward on April 27th. The Diamond Nexus earring raffle will also be available at the event, as well as 25% of the revenue brought in from Spin being donated.
Diamond Nexus was founded in 2004 with the purpose of bringing to the public the powerful benefits of the lab-created diamond stimulant revolution. They have over 250,000 customers worldwide that have awarded them an "A+" rating with the BBB, and are the ninth largest online jewelry retailer in America according to the 2011 IR500 list. For three years in a row, brides from The Knot have selected them as their Best of Jeweler. Diamond Nexus currently has two retail locations: their flagship store at Woodfield Mall in suburban Chicago, Illinois, and a second store at Mayfair Mall in Milwaukee, Wisconsin. In 2009, the company was named the official jeweler and crown maker of the Miss Universe Organization as part of NBC/Universal's "Green is Universal" environmental initiative.