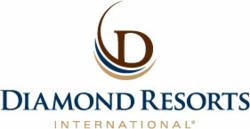 Las Vegas, NV (PRWEB) April 23, 2013
DIAMOND RESORTS INTERNATIONAL®, a global leader in the hospitality and vacation ownership industries, engages in unified sustainability efforts at worldwide branded and managed resorts on Earth Day to promote awareness of environmental issues in efforts to contribute toward a more sustainable future.
From Sahara Sunset in Malaga, Spain to The Historic Powhatan Resort in Williamsburg, VA, Diamond resorts across the globe engaged in green activities to educate its owners, members and guests on environmental issues, and contribute to the international company's overall sustainability goals. Diamond team members from all 79 managed resorts joined together with owners, members and guests to celebrate Earth Day by planting a regional tree or shrub on site at each resort. Additionally, each resort team planned area-appropriate eco-awareness activities including recycled paper making, lavender oil making, beach clean-up, recycling awareness workshops, scavenger hunts and Earth Day movie showings.
At Corporate Headquarters in Las Vegas, NV, Diamond partnered with a local organization to engage in a green initiative to help team members reduce electronic waste, or e-waste. From April 23 through the end of the week, Diamond will provide an e-waste recycling bin on site for team members to properly dispose of any personal electronic equipment. These items will then be re-purposed and recycled in an environmentally safe manner.
According to Stephen J. Cloobeck, Founder and Chairman of Diamond Resorts International®, "As an international company with a large global impact, we can't afford to ignore environmental issues. Though Earth Day is only one day out of the year, we like to take this day to recognize a culmination of an entire year's green efforts. At Diamond we are continually engaging in green initiatives and making significant strides toward becoming a more eco-friendly company. We encourage every team member to do their part and help us reach our company's sustainability goals."
Diamond Resorts International®, with global headquarters in Las Vegas, Nevada, is one of the largest hospitality companies in the world with a network of more than 260 vacation destinations located in 28 countries throughout the continental United States, Hawaii, Canada, Mexico, the Caribbean, South America, Central America, Europe, Asia, Australia and Africa. Offering simplicity, choice and comfort to more than 490,000 owner-families through our branded hospitality service, Diamond Resorts International® is dedicated to providing its guests with effortless and relaxing vacation experiences every time, for a lifetime.
Annually, nearly 1.4 million owners, members and guests enjoy the simplicity, choice and comfort Diamond Resorts International® offers through our branded hospitality experience.
About Diamond Resorts Corporation
Diamond Resorts Corporation and its subsidiaries develop, own, operate and manage vacation ownership resorts and, through resort and partner affiliation agreements, provide owners and members with access to 79 managed resorts, 180 affiliated resorts and hotels and four cruise itineraries through THE Club® at Diamond Resorts International®. To learn more, visit DiamondResorts.com.