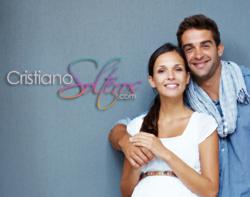 Our membership increased so dramatically...
Torrance, CA (PRWEB) April 25, 2013
Prompted by the success of previous promotions offering discounted subscriptions, Latin dating site CristianoSolteros.com is reporting that they will welcome in the unofficial start of summer by offering a discounted membership when signing up over Memorial Day weekend.
The holiday weekend, which runs from Saturday, May 25th to Monday, May 27th, is largely known as a time when many businesses hold huge sales. "Sales have become more or less synonymous with the Memorial Day holiday at this point," according to Maggie Danhieux, spokesperson for the Latin dating site. "We figured we'd join the party and attempt to attract Latin singles who may have been hesitant to pay for online dating in the past."
Those at the site, a haven for Latin singles who wish to meet others of similar faith, are confident that prompting this call to action will be beneficial to those who are trying online dating for the first time. "The Memorial Day Weekend is already an exciting time," says Danhieux. "I think it serves as an excellent reminder to those who are without a partner that they should try new things."
While free memberships offering some features are still available, advanced features, such as chat and member-to-member email, will be available to those with paid subscriptions. Although it's not yet determined what the exact rate of discount will be, a Valentine's Day promotion discounted rates 50% from the regular price. Company officials do believe it will be less than the cost of competing dating sites. To take advantage of the Latin dating site's latest discounted rates, the promotional code is: memorialday2013.
Although there might be concern over offering too much for too little, Danhieux is quick to point out the contrary. "Our membership increased so dramatically during our last promotion," said Danhieux, "It offset the cost of lowering rates. It's what some might refer to as the 'Walmart Effect.' Whether in Latin dating or in retail, selling more at a lower price renders great results."
Latin singles who wish to join CristianoSolteros.com have the option of choosing from various membership plans that are billed monthly. Subscribers can pay through Paypal and now through other payment methods thanks to a new partnership with OptimalPayments.com.
About CristianoSolteros.com
Part of a leading Christian dating network established in 1997, CristianoSolteros.com is unique in its approach: all of its members are committed to seeking out long-term, faithful relationships. Unlike most dating sites, dating services within the network do not allow casual dating. The sites of this Latin dating community have gained great popularity and are frequented by Christians from all over the world. An approved member of the BBB online Reliability Program, Christian Singles Commitments Corp is committed to providing safe and secure online dating.