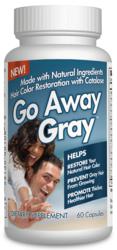 Sparta, NJ (PRWEB) April 24, 2013
Blamed For Giving Mom Gray Hair? Fix it this Mother's Day
After all the years of being blamed for causing Mom's gray hair, this Mother's Day give Mom the best gift possible, the gift of youth by bringing back her natural hair color!
Go Away Gray, is an all natural supplement (originally created by a mom), that restores hair color. Go Away Gray replaces an enzyme lost with age, called catalase. While hydrogen peroxide is the culprit behind gray hair, catalase's role is to break down the hydrogen peroxide, which stops the graying process, and allows natural hair color to come back at the root.
"Kids may make us pull our hair out, and we love to say they're at the root of gray hair, but it's cellular damage and a catalase deficiency that we need to blame," said Cathy Beggan, founder of Go Away Gray and President of Rise-N-Shine, LLC. "It's amazing how a bottle of pills, not a bottle of hair color, can permanently and naturally get rid of gray hair."
It's not too late to wow Mom this Mother's Day. This youth saving supplement is the gift that keeps on giving, unlike flowers that wilt in a week, or chocolates that disappear in a day. One bottle of Go Away Gray is $29.99.
Visit http://www.goawaygray.com for more information.