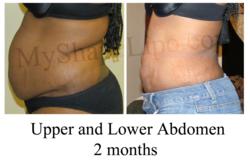 Our patients walk out of the office after their liposuction procedure with smiles on their face
Las Vegas, NV (PRWEB) April 29, 2013
The "Tummy Tuck" has long been the treatment of choice for women concerned about loose skin on their abdomen. Recent research presented at the Society of Interventional Radiology's 38th Annual Scientific Meeting in New Orleans on April 13-18, of more than 2,000 patients showed that the use of laser liposuction showed benefits of new collagen production. Collagen is the main protein that gives skin it's tone and elasticity. The use of the laser with liposuction causes the collagen to contract leading to skin tightening to help alleviate the concerns of loose skin.
With the additional tightening of the skin many are opting for liposuction instead of the more invasive Tummy Tuck. "The majority of my patients that considered tummy tucks and chose laser liposuction are extremely happy with their outcome," say Trevor Schmidt PA-C, the Liposuction Specialist at MyShape Lipo.
Most women don't like the large scars that are a consequence of tummy tucks. Also, the recovery for a tummy tuck can be long and difficult causing one to be off of work for about 2 weeks minimum. This can mean a much bigger cost than the hefty procedure costs.
"Our patients walk out of the office after their liposuction procedure with smiles on their face," says Schmidt. According to patient statistics at MyShape Lipo, 84.3% of patients report that they are able to return to work within 3 days after their laser liposuction procedure. More impressively, 65.6% of patients report the ability to get back to full gym work outs by 2 weeks following their procedure.
Liposuction has had an impressive safety record for many years now, which is why it has become the most popular cosmetic procedure in the United States. With the addition of the laser for skin tightening, it's not hard to see the appeal.
"As more and more people choose laser liposuction over tummy tuck, I can see the demand for tummy tucks decrease significantly over the next few years," says Schmidt. "We are already getting some amazing results and the word is spreading quick."
MyShape Lipo is a specialty liposuction clinic located in Las Vegas, NV. They cater to patients from around the world with their affordable prices, consistently good results and award winning customer service. Call 702-818-5476 for a complimentary consultations via phone or in person.