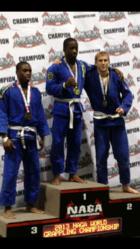 Morrison, NJ (PRWEB) April 26, 2013
The NAGA World Championships was held in Morrison, NJ April 20th and 21st. Kids, teens and adult men and women from all over the nation showed up to compete. Gold medals and team titles were on the line, including swords, belts, and other cool prizes for the winners.
Team Lloyd Irvin sent a host of young men and women to try test their grappling skills, including Sodiq Yusuf, 19.
Sodiq, a white belt, competed in the 150-159 lb division. With 5 matches to determine the champion, Sodiq defeated two of his opponents with a submission, the other three on points. In his finals match, Sodiq started off down an advantage to his opponent. After a reversal, Sodiq would take top position and sink in a clock choke for the win.
Sodiq has been training brazilian jiu jitsu and MMA with Master Lloyd Irvin in Camp Springs, MD for almost a year. Sodiq also teaches wrestling at the Academy. Look out for Sodiq, as he's sure to be a force to be reckoned as his continues his martial arts career.