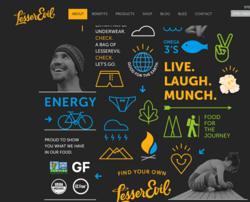 Wilton, CT (PRWEB) April 24, 2013
LesserEvil, a Connecticut-based healthy snack food company, has launched an adventurous site redesign that enables easier navigation, greater customer experience, and encourages site visitors to explore ideas in health and fitness through articles on their blog.
"LesserEvil provides something that delivers more then a snack. We provide food for the journey," says LesserEvil Brand Manager Kristen Cardilli. She continues, "We wanted that concept to really shine through with our new site, taking our customer through this journey of positive healthy choices."
In recent months, LesserEvil has transformed its brand, introducing new products that include Chia Pop and Chia Crisps, both snack items enhanced with beneficial milled chia seeds. The new website brings the concepts together, merging quality of life with quality snacking.
About LesserEvil Healthy Brands
LesserEvil Healthy Brands is a snack food company founded in 2004 with the mission to create natural, healthier snack food than many other snack foods on the market. The company's award winning all-natural snacks are produced without trans fats, preservatives, artificial flavors and colors, high fructose syrup and gluten ingredients that many other snack products use.
LesserEvil's snacks are full of flavor, and still gives people a sinfully delicious treat without the guilt. LesserEvil has innovated the snack industry with their LesserEvil solution. They believe that life is about balance, and they don't believe in being perfect. LesserEvil vows to continue its mission to fight bad snacking with a little goodness. Join them in their journey towards a LesserEvil life.