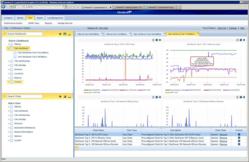 With this release, MonitorIT® has reset the bar it created for proactive hybrid infrastructure monitoring. - Raja Jadeja, Vice President of Technical Operations at Goliath Technologies
Conshohocken, PA (PRWEB) April 24, 2013
Goliath Technologies, the leading provider of powerful, self-service enabled solutions to fully monitor, analyze and remediate issues in today's complex hybrid technology environments, announced today the general availability of version 10.5 of their MonitorIT® solution.
"MonitorIT helps our IT team sleep soundly at night by monitoring our hybrid environment and automatically taking action if something ever slows down or comes to a halt," said a user remaining anonymous from Suncoast Hospice.
The new MonitorIT® from Goliath Technologies reaffirms its market-leading position by delivering powerful, data-rich performance dashboards and charts which allow IT professional to better visualize, correlate and monitor key pieces of information from around their hybrid infrastructure – including application level performance. In addition to the newly built analytical capabilities, the user interface and user experience found within the product have been completely revamped so that new and old users alike will find it easier to navigate and get greater value out of the powerful solution, faster.
"With this release, MonitorIT® has reset the bar it created for proactive hybrid infrastructure monitoring," said Raja Jadeja, Vice President of Technical Operations at Goliath Technologies. "MonitorIT® now more easily enables organizations to access unparalleled capabilities to visualize, correlate, monitor and remediate issues within today's modern cloud, virtualized and physical IT ecosystems. The demand to bring this functionality to MonitorIT® from our install base has been unparalleled – reaction to the new enhancements thus far have been overwhelmingly positive."
Over the past several months, many organizations have taken part in the Goliath Technologies' design partner program by beta testing and getting early access to releases of the new MonitorIT®. This program gathers critical R&D information from real-world production usage and guided closing development of the new version of MonitorIT.
Goliath Technologies invites everyone to attend their 'What's New in MonitorIT® v10.5' launch webinar on May 9th at 2:00 PM ET USA. You can register for this event and learn more at http://www.goliathtechnologies.com.
About Goliath Technologies
Goliath Technologies is all about being proactive. We deliver market-leading proactive systems management and issue remediation software for IT organizations running in today's hybrid infrastructures. Specifically, Goliath's solutions address the evolving challenges of managing physical, virtual and cloud infrastructures by allowing IT professionals to monitor, report, analyze and automate fixes for both applications as well as the entire supporting technology stack. Businesses today require solutions with deep functionality and capabilities that are scalable, cost-effective and easy to use. Goliath's solutions fill the gap left in the marketplace between simplistic, cost-effective point solutions and expensive, services-intensive enterprise solutions making deep, functionality rich solutions available to everyone – even those who thought they couldn't afford it in the past. Headquartered in Philadelphia, PA, with all development located in the United States, our software is used by customers worldwide including ADP, ING Direct, NASA, Thompson Reuters and Shell.
Learn more today at http://www.goliathtechnologies.com.
Goliath Technologies Press Contact:
Press/Analyst Relations
Goliath Technologies
1-855-GOLIATH