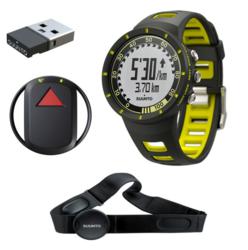 The new Suunto GPS Track Pod weighs a mere 1.2 ounces and can record speed, distance and even post-exercise maps in Suunto Movescount software
Bozeman, MT (PRWEB) April 24, 2013
The new Suunto Quest GPS is a black heart rate monitor watch with yellow accents and a new 1.2 ounce GPS pod that is the lightest pod ever devised according to Heart Rate Watch Company.
"The new Suunto GPS Track Pod weighs a mere 1.2 ounces and can record speed, distance and even post-exercise maps in Suunto Movescount software", says Rusty Squire, President of the Heart Rate Watch Company. The GPS pod can also be used with the Suunto M5 for those who wish to purchase the pod separately.
"The new Suunto Quest GPS also includes the Suunto Mini-Movestick to upload data to you PC, laptop or notebook along with the Suunto Comfort belt", says Squire. He adds, "This is one nice looking watch and a versatile package for indoor or outdoor fitness".
THE AFFORDABLE SUUNTO GPS
Since the Suunto Ambit costs $500, the Suunto Quest is a GPS for the rest of the world according to Squire. "At under $300 the Suunto Quest GPS offers advanced heart rate features combined with pacing and distance data, which is the key to proper pacing", says Squire.
"One of the nice things with Quest is that the watch uses a normal coin cell lithium battery so there is no need to re-charge it", says Squire. He adds, "The GPS pod requires charging about every 15 hours of use in one second recording and contains a rechargeable lithium-ion battery".
EYE-GRABBING YELLOW
"There is just something about the color yellow that makes the watch more eye grabbing and easier to read", says Squire. He adds, "There is a reason yellow is the color of caution for traffic signals".
The Heart Rate Watch Company has the new Suunto Quest GPS in stock.