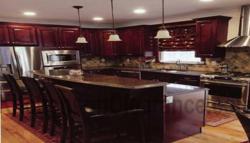 We already bring our customers the most high quality cabinets at the best possible discounts, and by introducing this innovative new feature on our site, we're bringing even more value to everyone who purchases our outstanding cabinet products
Miami, FL (PRWEB) April 24, 2013
KitchensonClearance.com is pleased to announce the availability of a new, interactive feature on their website that allows customers to watch cabinet installation videos. The company, which is already regarded as the leading online provider of high-quality cabinets at discount prices, is seeking to expand its client base and provide current customers with an increased level of service, through the provision of instructional videos, now available on the company's site.
Kitchens on Clearance created its set of cabinet installation videos in response to not only customer's desire to save money, but also the growing popularity of do-it-yourself projects. Many homeowners are opting to perform work themselves, as opposed to outsourcing the labor, and Kitchens on Clearance wanted to give its customers the opportunity to conduct their own installations, easily and efficiently.
The videos are completely comprehensive, and show trained installation experts completing each step required to install a number of Kitchen on Clearances' cabinet products, including Spice Maple wall cabinets, Toffee Maple wall cabinets and Berkshire Bamboo base cabinets. In total, Kitchens on Clearance is currently providing site visitors and customers with nine highly informative and instructional videos to assist in the installation of a number of the company's most popular cabinet products.
By providing customers with these instructional videos, the company is giving the opportunity to purchase the discounted cabinets and then save money by completing the installation on their own, as opposed to paying for the labor and installation costs.
The videos are designed to match any skill or experience level, and they deliver a high amount of detail, in order to help even the most inexperienced do-it-yourselfer in the cabinet installation process.
"We already bring our customers the most high quality cabinets at the best possible discounts, and by introducing this innovative new feature on our site, we're bringing even more value to everyone who purchases our outstanding cabinet products," said a spokesperson for Kitchens on Clearance.
Kitchens on Clearance hopes to continue to expand its video features, in order to provide customers with more opportunities to complete their own home improvement and renovation projects, particularly as the real estate market continues to pick up steam, and more homeowners are considering projects to increase the resale value of their homes.
About Kitchens on Clearance
The KitchensOnClearance.com website is owned & operated by KOC Inc. and the company is located in Miami, Florida. KitchensOnClearance.com was formed to fill the need for high quality, low cost kitchen and bathroom products with a reasonably quick delivery time. Kitchens on Clearance (kitchensonclearance.com) is a leading provider of kitchen remodeling supplies, including top-of-the-line, solid wood cabinets, and designer counter tops, all at deeply discounted prices. In addition to discount products, the company also provides design services. To reach the company, call 1-800-481-1728.