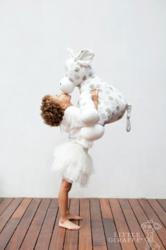 "The partnership between Little Giraffe and Global Icons will enable us to share our signature blend of luxury, quality, and convenience with new markets and categories, as well as deepen our relationship with our ever-loyal customers." Trish Moreno, CEO
Los Angeles, California (PRWEB) April 25, 2013
Global Icons, a premier brand licensing agency, serving a rapidly expanding global portfolio of market-leading clients, announced today its representation agreement with Little Giraffe®, a leading name in the luxury baby accessories industry.
Since 2000, parents everywhere, including many of Hollywood's most well-known moms and dads, have fallen in love with Little Giraffe's incredibly soft, ultra-plush, machine-washable products. The company's unique, easy-care, heirloom quality collections are comprised of the coziest, and most luxurious – yet practical – blankets, blankies and accessories available for babies and adults.
Global Icons will support Little Giraffe's strategic brand initiatives by increasing the brand's exposure through new engaging product collections. The brand extension development will focus on select infant products and categories, such as strollers, walkers, car seats, cribs, and other infant furniture, that exemplify the core essence of luxury and comfort.
"The partnership between Little Giraffe and Global Icons will enable us to share our signature blend of luxury, quality, and convenience with new markets and categories, as well as deepen our relationship with our existing and ever-loyal customers," remarked Trish Moreno, president and CEO of Little Giraffe.
"We are excited to have the opportunity to work with Little Giraffe and carry on its trusted tradition of providing parents quality infant essentials with the finest comfort and exclusive craftsmanship," added Jeff Lotman, CEO of Global Icons.
About Little Giraffe
Little Giraffe is LOVE! Based in Los Angeles, Little Giraffe's mission is to provide consumers with the most luxurious, exclusive, and hassle-free children's apparel and accessories on the market. Since 2000, the company's unique collections have delighted celebrities, style-makers, and discerning parents across the country with a signature blend of comfort, quality, and convenience. Little Giraffe is "not just baby blankets anymore," having expanded their collection to include layette, apparel, bath care, and the extremely popular plush toy. Many of Hollywood's most well-known moms & dads, such as Brad Pitt & Angelina Jolie, Katie Holmes, Gwen Stefani, Salma Hayek, Halle Berry, Nicole Richie, and Jessica Alba, have all welcomed their newborns and wrapped their little ones in love with Little Giraffe products. For more information about Little Giraffe, please visit the Little Giraffe website.
About Global Icons
Global Icons, the premier brand licensing agency, specializing in the development and extension of corporate brands and trademarks, has attracted world class clients by consistently developing new categories and unique products. Through the establishment of the right brand extensions, the company succeeds in increasing brand awareness, as well as, creating new customers and new revenue. Select clients include BMW, Buck Knives®, Crock-Pot®, Dairy Queen®, Dannon®, Duraflame®, Ford Motor Company, GUINNESS®, Hollywood, HUMVEE®, Little Giraffe®, MINI, Motorola, MR. COFFEE®, Mrs. Fields®, Oster®, Pop-Secret®, and Sunbeam®, among others. For more information regarding Global Icons, LLC, please the Global Icons Website.