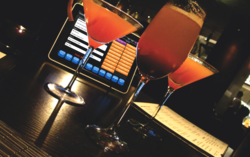 Las Vegas, NV (PRWEB) April 24, 2013
Next Gen Dine, the Future of Restaurant Dining and the next generation of mobile restaurant point of sale, now features online and smart phone ordering by integrating with MenuDrive. Restaurant owners using Next Gen Dine can now integrate their point of sale system directly with the online ordering system. Customers can go online, download the app on their smartphones, search the restaurant's menu, place orders, and make payments. Online and mobile orders are sent instantly directly to the point of sale system and sent to the appropriate prep. station. Orders sent in via MenuDrive appear as normal orders in the POS and integrate directly with the reporting system. Coupled with easy to use marketing and social media features, Online and mobile ordering opens a whole new revenue stream for a restaurant owner.
Next Gen Dine and MenuDrive provide restaurants with a branded online restaurant ordering software that integrates with existing systems and delivers valuable marketing tools, sales reports, and customer data. Within the next year, over 500 million smartphones will be sold. Restaurant owners can offer their very own mobile food ordering site and capture sales through the fastest growing channel. Users stay in contact with customers with MenuDrive's automated marketing tools. Create specials and coupons, auto email and text offers, and connect the restaurant online ordering menu to customers' Facebook. Next Gen Dine and MenuDrive offers one of the most feature-rich, easy to use, online ordering and point of sale combinations available today.
Next Gen Dine is a cloud-based mobile POS application available on iPad and coming soon to the Android platform. Credit card payments can be taken by servers right at the table making customers even more comfortable because credit cards never leave the table. Next Gen Dine provides a tablet restaurant point of sale, combined with social media marketing tools, and amazing cloud-based integrations to offer the highest-tech and highest-value in point of sale. Next Gen Dine gives restaurant owners a powerful point of sale platform with a minimal footprint and continues to add valuable features like happy hour pricing.