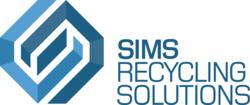 Reusing or recycling 100 million pounds of electronic waste is approximately equivalent to conserving 12,500,000 million gallons of gasoline, removing 25,000 cars from the road, and planting 2,900,000 million trees.
West Chicago, IL (PRWEB) April 24, 2013
Sims Recycling Solutions, the global leader in electronics reuse and recycling, recently recognized 14 companies for recycling over 100 million pounds of e-waste. Sims selected these companies to receive this honor based on the weight of electronic waste each one shipped to a U.S. Sims Recycling Solutions facility last year. Representing some of the leading U.S. companies from the electronics manufacturing, insurance, retail, technology and telecommunications industries, each company recycled between 1 million and 10 million pounds of electronic waste with Sims in 2012. These companies dedicate significant corporate resources to ensure that the proper methods for recycling and waste disposal are in place; an investment that creates jobs, conserves natural resources, and reduces carbon emissions.
Based on the U.S. EPA Waste Reduction Model from February 2012, reusing or recycling 100 million pounds of electronic waste is approximately equivalent to conserving 12,500,000 million gallons of gasoline, removing 25,000 cars from the road, and planting 2,900,000 million trees.
"In most cases, the actions of these large corporations pave the way for the rest," stated Steve Skurnac, President, Sims Recycling Solutions, Americas. "These organizations realize that they have a responsibility to not only properly dispose of their electronics because of their own environmental, data security, reputational and compliance obligations, but also to set the standard for others to do the same as well. Sims is pleased to congratulate these companies for their commitment to e-waste recycling and we are proud to be working with them."
Each company was presented with an award and a certificate of sustainability that demonstrated how their commitment to electronics recycling benefits the U.S. economy and environment.
Sims Recycling Solutions
Sims Recycling Solutions (us.simsrecycling.com) is the global leader in electronics reuse and recycling, offering customers in every business sector comprehensive recycling services out of our 53 owned and operated sites across the globe.
Sims Recycling Solutions – owned by Sims Metal Management, a publicly traded company – has the global reach, expertise and infrastructure necessary to guarantee our customers that their data is secure, their electronic equipment is processed in an environmentally responsible manner, their reputation is protected and their compliance risks are eliminated.
In North America, Sims Recycling Solutions operates 16 sites in Arizona, British Columbia, California, Florida, Illinois, Maryland, Nevada, New Jersey, Ontario, Quebec, Tennessee and Texas.
Cautionary Statements Regarding Forward-Looking Information
This release may contain forward-looking statements, including statements about Sims Metal Management's financial condition, results of operations, earnings outlook and prospects. Forward-looking statements are typically identified by words such as "plan," "believe," "expect," "anticipate," "intend," "outlook," "estimate," "forecast," "project" and other similar words and expressions.
These forward-looking statements involve certain risks and uncertainties. Our ability to predict results or the actual effects of our plans and strategies is subject to inherent uncertainty. Factors that may cause actual results or earnings to differ materially from these forward-looking statements include those discussed and identified in filings we make with the Australian Securities Exchange and the United States Securities and Exchange Commission ("SEC"), including the risk factors described in the Company's Annual Report on Form 20-F, which we filed with the SEC on 12 October 2012.
Because these forward-looking statements are subject to assumptions and uncertainties, actual results may differ materially from those expressed or implied by these forward-looking statements. You are cautioned not to place undue reliance on these statements, which speak only as of the date of this release.
All subsequent written and oral forward-looking statements concerning the matters addressed in this release and attributable to us or any person acting on our behalf are expressly qualified in their entirety by the cautionary statements contained or referred to in this release. Except to the extent required by applicable law or regulation, we undertake no obligation to update these forward-looking statements to reflect events or circumstances after the date of this release.
All references to currencies, unless otherwise stated, reflect measures in Australian dollars.