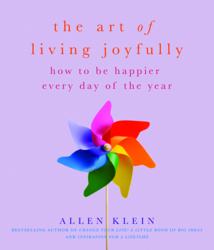 (PRWEB) April 24, 2013
How did Allen Klein come to be the world's only Jollytologist, selling over 600,000 books worldwide, and become a successful speaker? Surprisingly, Allen's mission began when he faced life's greatest challenge. When he was a young man, his wife was diagnosed with a rare form of cancer. During his wife's bedside vigil, Allen quickly realized that telling jokes and stories lifted not only his wife's spirits, but everybody else's, including his own. The compelling inspiration of words and the healing power of humor helped everyone cope with the diagnosis and death of his wife at the young age of 34. Allen Klein's purpose is to make people feel inspired again, to bask in laughter and revel in joy. In the busyness of life and the stress of the day-to-day, it is easy to become over-worked and under-joyed.
Allen will be appearing on these radio shows; tune in to listen to his jokes and advice about living joyfully:
May 3: Coach's Cafe Radio
May 16: On Purpose Radio
Another way to listen to Allen Klein is through his audio books:
The Art of Living Joyfully: How to Be Happier Every Day of the Year
Words of Love: Quotations from the Heart
Change Your Life! A Little Book of Big Ideas
Inspiration for a Lifetime: Words of Wisdom, Delight and Possibility
Allen will also be speaking at the Hospice of Hilo in Hilo, HI on May 10th and at Illinois School Nutrition Association from June 27-28th.