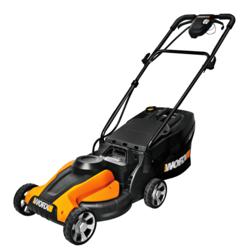 "It's a great choice for urban lawns or homes with small lots," said Lauren Gomez, Marketing Manager for WORX.
Charlotte, NC (PRWEB) April 24, 2013
The new WORX 14 in. lawn mower has a redesigned deck that makes it 40 percent more efficient than its predecessor. The use of strategically placed fins on the rim of the deck's housing creates greater lift, enabling the mulching mower to cut grass more efficiently.
This battery-powered, 33 lb. mower is less than half the weight of a conventional mower and can be easily stored when not in use.
"It's a great choice for urban lawns or homes with small lots," said Lauren Gomez, Marketing Manager for WORX. "It's lightweight, easy to maneuver and features instant start, so there's no fussing with gas and oil. Plus, it's quiet and environmentally friendly."
The WORX 14 in. mower has a mulching blade and a 3-in-1 mower deck that gives the user the option to mulch, bag or discharge grass clippings. The ergonomically designed mower has a Euro-styled housing with a foam-padded comfort handle that's fully collapsible for compact storage.
There's no pull cord, choke or gas tank to fill. The compact mower features two-sided electric starting. There are starting levers on either sides of the handle.
The mower is powered by a 24-volt, lead-acid battery. It's removable for charging and storage. The battery has a charge level indicator. By pressing the red indicator pad, the operator knows what percentage of energy is available in the battery. For charging, remove the battery from the mower deck, connect it to the charger and plug into a power outlet. The charger signals "green" when the battery is fully charged, which typically takes 4 to 5 hours. Return the battery to the mower, and it's ready for operation. When fully charged, the mower can cut up to 6,000 sq. ft.
Standard equipment includes one battery and charger, mulch insert, rear or side-discharge chute and a 0.85-bushell capacity grass bag. WORX mower wheels are rubberized for smooth operation in all conditions.
The compact mower is equipped with three height-of-cut adjustments, including 1.8 in., 2.6 in. and 3.3 in. positions. It even has a grass bag level indicator to alert the operator when it's time to empty the bag.
WORX cordless mowers feature 75 percent noise reduction when compared to most gas powered lawn equipment. They also have zero emissions, making them a greener and cleaner solution for the environment.
The WORX 14 in., 24V Mower(WG775, $219.99) is available at http://www.worx.com.
Other WORX mower models include the WORX 14 in., 24V Mower with IntelliCut (WG782, $249.99); 17 in., 24V Mower (WG787, $349.99); 19 in., 36V Mower (WG788, $429.99) and 19 in., 36V Mower (WG789, $499.99). All and are available at http://www.worx.com and retailers including Lowe's, Menard's and Amazon.com.
# # #
Note: For hi-res images and additional information, contact MKM Communications at mkmcomm(at)gmail(dot)com or call 847-255-1903.