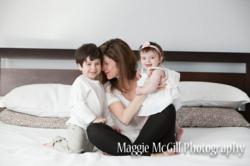 West Orange, NJ (PRWEB) April 24, 2013
The company announced their first Mother's Day contest last week to their Facebook community. The idea of the contest is to provide a personal view of Mom, celebrating her not only as mother but as a woman.
Those who choose to submit their story, are asked to fill in the blanks for 26 different statements and provide a photo of themselves or whomever they are nominating. Her story will be featured on the HarpersLove blog and she will win a $100 towards a HarpersLove design. Each week, a new winner will be selected. The contest ends May 8th.
The CEO and Founder, Michelle Mullman, submitted her own story on the blog. Here are a few of the statements that she shared.
© Love is overwhelming, life without it would be tragic.
© My true Love is my family.
© When I fall in love I am ridiculous.
© I am motivated to be happy.
HarpersLove will also be attending the NYTechDay for Startups in New York, NY on April 25th. Michelle will be on hand introducing HarpersLove to press, investors and the general public. HarpersLove will be giving away several prizes and will offer special deals for attendees of the event. For more information, go to https://nytechday.com.
HarpersLove is a new online jewelry shopping experience where the customer is the designer. Customers can design their jewelry via design builders that enable them to select various options for every aspect of the jewelry design. The options include selections such as metal type, stone selection, stone type (color, cut, size) and accessory selections (chains, earring backing). All products are custom created and it can take three to five weeks for delivery. Each order includes free shipping and 60-day risk free returns.
The custom jewelry business has a social presence via Facebook, Tumblr, MySpace and Twitter. Customers can also become members of the HarpersLove community by signing up for an account at Harperslove.com. Members can receive special discounts and news on products, events and website changes.
About HarpersLove
HarpersLove, headquartered in West Orange, NJ, launched in 2012 by Michelle Mullman, founder and CEO. The website offers customizable options for fine jewelry and produces their products through artisans in the Greater New York region. The company was self funded by Ms Mullman and she is currently taking steps to secure additional funding to move the company to the next level. For more information about HarpersLove, visit https://harperslove.com