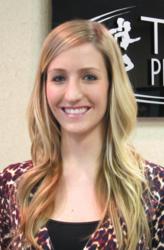 Newport News, Va. (PRWEB) April 24, 2013
Tidewater Physical Therapy is pleased to welcome Brittany Lundvall to the outpatient physical therapy practice. Lundvall will serve as the clinical liaison and marketing representative for the South Hampton Roads region.
Tidewater Physical Therapy operates 33 physical therapy clinics and two personal training and sports Performance Centers throughout Southeast and Central Virginia, from Virginia Beach to Newport News and from Williamsburg to Richmond.
Specifically, Lundvall will support Tidewater Physical Therapy's clinics in Chesapeake – Great Bridge, Battlefield and Western Branch; Virginia Beach – Redmill; Norfolk – Kempsville; Smithfield; Franklin and Windsor.
Lundvall comes to Tidewater Physical Therapy with a strong background in public relations and healthcare services. She received her B.A. in Journalism and Technical Communications from Colorado State University.
Established in 1986, Tidewater Physical Therapy employs nearly 300 physical therapists, physical therapy technicians, personal and sports performance trainers, front office coordinators and a corporate headquarters staff.
Learn more about Tidewater Physical Therapy at http://www.tpti.com and its Performance Centers at http://www.tidewaterperform.com.