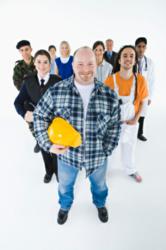 Safety education is the key to decreasing workplace injuries
Chicago, IL (PRWEB) April 30, 2013
The country as a whole is moving in the right direction and have room for improvement with education (OSHA Training). With decrease in fatal workplace injuries over the years, still almost 90 a week or nearly 13 deaths every day. "With every one of these fatalities, the lives of a worker's family members were shattered and forever changed. We can't forget that fact." -Acting Secretary of Labor Seth D. Harris.
"Every day in America, 13 people go to work and never come home. Every year in America, nearly 4 million people suffer a workplace injury from which some may never recover. These are preventable tragedies that disable workers, devastate families, and damage economy. American workers are not looking for a handout or a free lunch. They are looking for a good day's pay for a hard day's work. They just want to go to work, provide for their families, and get home in one piece."
– Secretary of Labor Hilda Solis.
Join Spectrum OSHA Training Services, Inc. at the Annual Workplace Safety Fair on Tuesday, June 18, 2013 from 9 a.m. to 5 p.m. at the Renaissance Chicago North Shore Hotel in Northbrook. This is a "must attend" event for safety and health professionals, designed to build awareness of the safety product and educational resources available to the organization to maintain a saver working environment.
Come network with other professional at the Safety Fair and learn how to enhance different safety progrms, operate efficiently and effectively, and safely.
For more information and to register for the Annual Workplace Safety Fair as a vendor or attendee: http://www.workplacesafetyfair.com or email info(at)illinoisoshatraining(dot)com or call 877-366-0611
About Us
The mission of Spectrum Training Services is to provide effective and affordable OSHA approved training to businesses, enabling them to implement workplace safety programs that will minimize the risk of job site injuries, accidents, and deaths.