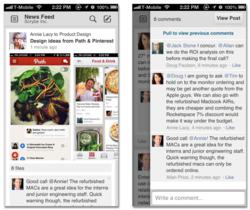 In some accounts Convo mobile logins now exceed web or desktop logins.
San Francisco, Calif. (PRWEB) April 24, 2013
Convo, an innovative provider of cloud-based collaboration workspaces for globally distributed teams, today is launching its new iPhone application. Convo's customers now number over 5,000 companies, each reporting dramatically increased collaboration over rich images, presentations, PDFs and documents.
Convo moves beyond first-generation enterprise social networks such as Yammer, Salesforce Chatter and Jive by creating a more tightly integrated work environment where social features such as chat and commenting are better correlated with the work being done. With support for 33 different file types – including rich images, presentations, PDFs and documents -- customers reduce the need to jump in and out of different applications to complete their work. Employees can easily drag and drop their files, links, and others assets into the Convo workspace where others can annotate, comment and collaborate.
Enhancing its board of advisors, Convo also announced that David Stewart, former vice president of products at Yammer, Ivan Koon, former CEO at YouSendIt, Keith Teare, CEO of just.me and cofounder of TechCrunch, and Alnoor Shivji, former CEO of WaferGen have joined its team of advisors to provide counsel to maintain Convo as the leader in enterprise social networks and collaboration tools.
Mobile Conversations In Color, In Context - New iPhone App
Tailored specifically for teams who are deadline-driven and for whom collaboration around images, presentations and documents are needed to quickly and efficiently complete work, the latest release of Convo iPhone app includes:

One-click Sharing from browser – provides faster sharing of links with new Convo bookmarklet without having to cut and paste URLs.
Sneak Peeks – allows participation in multiple conversations without leaving the feed. This is a great example of innovation in the "facebook for work" paradigm where features are being designed from ground up to foster productivity and speedy communication.
Powerful, faster search.
Real-sized, retina-ready high resolution images -- makes reviewing images on iPhones frictionless and more focused.
Higher Performing – delivers 40% faster commenting and posting, 100% faster feed scrolling than previous app
"Convo customer data and feedback showed us that engagement from business-oriented mobile applications is exceeding the desktop, reinforcing our decision to focus heavily on usability in this release. Customers can get 'sneak peeks' of conversations without leaving the feed and see real-sized images so that work is as easy on their mobile device as it is on the desktop. With customers pushing comments and posts upwards of 4,000 a day, having an elegant experience in interacting with that work from anywhere is critical, " said Faizan Buzdar, Convo founder and CEO.
Growing List of Active Customers -- More than Social "Engagement"
Joining a growing list of 5,000 companies using Convo, the latest organizations to adopt Convo's business solution include, Snow Software, Sonos, Enero, Naked Communications, HotwirePR, Corporate Edge, Precinct, The Next Web, Emisare Adveristing, Graphic Line Machinery, the Leading Edge, Oxford Leadership.
Innovative and creative organizations that are largely deadline driven such as news agencies, advertising firms, media companies, technology firms and marketing organizations chose Convo because it eliminates the need to work in multiple applications and tools to get their work done. Convo's intelligent design means that people stay longer inside Convo to communicate and make decisions, thus driving unprecedented collaboration. For example, at one leading publishing agency, found that their editors and writers have a 95% daily presence in Convo with over 3,000 posts a day.
"Relationships are conversations, and if the conversation stops the relationship stops. Our business entirely depends upon the quality of relationships, which means it's the quality, consistency, continuity, of conversations that matter. Convo enables that to happen," said Brian Bacon, President and Founder, Oxford Leadership Academy whose company has seen 30% increase in revenues since they started using convo.
About Convo
Launched in 2012 and funded by Adobe Systems and private investors, Convo serves over 5,000 companies across 156 countries, where business professionals are launching products, breaking news stories or creating cutting-edge campaigns. Customers move faster because they reduce the need to jump in and out of email, first generation enterprise social networks and different applications to complete their work.
Convo is a product of Scrybe Inc., headquartered in San Francisco, CA
For more information, please see: http://www.convo.com.