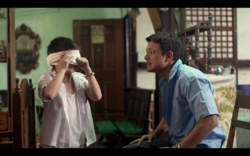 "Whether I win or not, I'm so proud and grateful for being a part of such a consequential film like Breakaway," reveals Rosales.
Newport Beach, CA (PRWEB) April 24, 2013
It has been Jericho Rosales' starring role in the romantic drama, "Subject: I Love You" that this international film star, who utterly captivated the hearts of the audience 2 years ago at the 2011 Newport Beach Film Festival, took home his first international acting award from his first international movie. Jericho returns to NBFF with yet another splendid performance in "Breakaway" (Alagwa), this time stretching the scope of his talent by co-producing his first film, and starring in a more unconventional role.
"Whether I win or not, I'm so proud and grateful for being a part of such a consequential film like Breakaway," reveals Rosales. "I can't wait for Orange County's most influential film festival, the NBFF, to showcase this project and boost its true awareness: The Global issue of Human-Trafficking."
Breakaway (Alagwa), an emotionally-gripping thriller, draws attention to the harsh realities of the human-trafficking atrocities taking place throughout the Philippines. The film centers on Robert Lim (Jericho Rosales), an impoverished single parent on a desperate search to find his abducted 9-year-old son, Brian (Bugoy Carino).
Utilizing excellent cinematography and allowing for loose—and even improvised—dialogue, the film highlights an authentic, unconditional love between father and son, filled with joy and laughter. However, that is just the prelude to a thriller of fluctuating emotions of fear, panic, and distress as Robert (Jericho) takes Brian (Bugoy) to the penny mall for a treat only to find that, after having turned his back for a mere moment, his son is nowhere to be found.
On Sunday, April 28 at The Triangle Cinema in Costa Mesa, Jericho Rosales and Director, Ian Lorenos, are expected to attend the premiere with festivities beginning at 3:30pm with red carpet arrivals.
The Breakaway (Alagwa) Premiere Schedule at the 2013 Newport Beach Film Festival is as follows:
SUNDAY, APR 28, 2013
The Triangle Cinema
1870 Harbor Blvd.
Costa Mesa, CA 92627
Red Carpet starts 3:30 PM
Screening: 4:30 PM
Q&A: 6:00 PM
"Meet & Greet" with fans: 6:30pm
TUESDAY, APRIL 30, 2013
Fashion Island Cinema
327 Newport Center Dr.
Newport Beach, CA 92660
Screening: 3:00 PM
Q&A: 4:30 PM
One-on-One Interviews available upon request
The NBFF Premiere of Breakaway (Alagwa) is open to the public. Tickets are $14 and are now on sale through the film festival website box office at Newport Film Festival or at the box office of The Triangle Cinema or Fashion Island Cinema.
For the film's official trailer, http://youtu.be/SriqQ5ZP0Qk
FOLLOW Jericho Rosales on Facebook, Instagram, and Twitter (#TeamECHO)!
FOLLOW the latest news on the movie, "Breakaway" on Twitter and Facebook!
Jericho Rosales is available for interviews, please contact Monica Busby or Mariesha Richard at Quantum Leap Entertainment // Monica(at)qle-pr(dot)com or Mariesha(at)qle-pr(dot)com or call 424-209-9QLE(753)