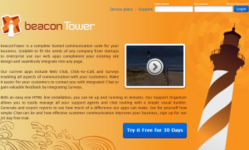 Web Chat, Click-to-Call, and Surveys enables all aspects of communication with your customers
Oakville, Ontario (PRWEB) April 25, 2013
Entaros Corporation is proud to release its first hosted offering for businesses. Based on decades of experience in building custom enterprise solutions for its Canadian customers, this is Entaros' first SaaS solution.
beaconTower is a complete hosted communication suite for businesses. Scalable to fit the needs of any company from startups to enterprise use, beaconTowers web apps compliment existing site design and seamlessly integrate into any page.
Their current apps include Web Chat, Click-to-Call, and Surveys enabling all aspects of communication with all customers. beaconTower makes it easy and seamless for customers to contact businesses with integrated Chat or gaining valuable feedback by integrating Surveys.
With an easy one HTML line installation their services can be integrated and running in minutes. Their Support Organizer allows easy management for support agents and chat routing with a simple visual builder. See how simple Chat can be and how effective customer communication improves business, sign up for a 30 day free trial.