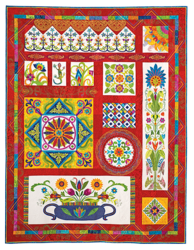 (PRWEB) April 24, 2013
AQS QuiltWeek™, opening April 24, 2013, features over 570 quilts from around the world. Among the five special exhibits are included two international collections, one from the National Quilt Museum, and two curated and hosted by the American Quilter's Society.
The high point of the show recognizes the artistry of today's quiltmakers, as over 400 quilters in the AQS Quilt Contest compete for more than $120,000 in cash awards. Entries in this international contest and exhibition come from around the world – with entries from forty-three states and eight countries. The winners of this year's contest have just been selected.
This year's winners come from across the world, each sharing a part of the $120,000 in cash prizes. Quilts from twenty-eight states have won awards at this year's contest, and several winners come from other countries – United Kingdom, Japan, and Germany. These winning quilts will astound the 30,000 quilters expected to visit AQS QuiltWeek in Paducah, KY, April 24 – 27, 2013.
A highlight of the winners of top honors are:
Janome of America Best Of Show: FIESTA MEXICO by Renae Haddadin of Sandy, Utah and Karen Kay Buckley of Carlisle, Pennsylvania
AQS Hand Workmanship Award: THE CHARM OF SMALL PINK ROSES by Keiko Minami of Kawanishi-shi, Japan
BERNINA of America Best Machine Workmanship Award: TULIP FIRE by Susan Stewart of Pittsburg, Kansas
APQS Longarm Machine Quilting Award: ADVENTURE AWAITS by Sue McCarty of Roy, Utah
Moda Best Wall Award: CHARM SCHOOL by Janet Stone of Overland Park, Kansas
Benartex Best Miniature Award: TINY TIGERS 2 by Pat Holly of Ann Arbor, Michigan
Coats & Clark Wall Hand Workmanship Award: ECHOING SPRING by Suzanne Marshall of Clayton, Missouri
Brother International Corporation Wall Machine Workmanship Award: LARRY by Jennifer Day of Santa Fe, New Mexico
Handi Quilter Wall Longarm/Midarm Machine Quilting Award: PURPLE IRIS by Monica Troy of Lemont, Illinois
There's still time to come see all the winners, as well as the more than 570 quilts on display at Quilt City USA® at the Paducah Expo Center. Admission to AQS QuiltWeek includes access to all special exhibitions and the merchant mall with more than 385 vendors. Hours are Wednesday, April 24 through Friday, April 26 from 9 a.m. to 6 p.m., and Saturday, April 27 from 9 a.m. to 5 p.m.
The American Quilter's Society is the largest quilting membership organization in the world. For almost 30 years, AQS has been the leading voice in quilting inspiration and advice, through a broad suite of products—magazines, books, live events, contests, workshops, online networks, patterns, fabric, and catalogs. At AQS, we believe that with inspiration and advice, the creatively-minded individual can take their quilting projects beyond what even they had imagined. That is why inspiration is central to everything we do. The leading authors in quilting choose to publish with AQS; the best in quilt artistry select AQS events to display their work; the newest quilters learn from the knowledge and inspiration of AQS members.