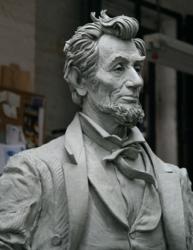 New York, NY (PRWEB) April 24, 2013
On April 3rd, the New-York Historical Society unveiled a life-size bronze sculpture of Abraham Lincoln. The event, which attracted such personalities as singers Tony Bennett and Judy Collins, writer Gay Talese, editor Nan Talese, Barnes & Noble CEO Leonard Riggio, media magnate Sumner Redstone, and Actor André de Shields, highlighted one of the finest sculpted likenesses of Lincoln ever produced. For Long Island, New York sculptor and educator Frank Porcu, the launch of what is arguably the beginning of a new and exciting phase in his career cannot be overstated.
The distinguished Lincoln historian Harold Holzer, who introduced the event, has remarked that Porcu's bust is the best three-dimensional likeness he's seen in forty years of studying the president. That sentiment has been echoed by a number of historians and museum curators who have studied Lincoln's image.
But there's more to Mr. Porcu's Lincoln bust than the artist's talent and skill. Quite often, as history has shown, great works of art are born out of a relationship of patronage. At least that's the way it used to be. The tradition of the artist-patron arrangement has become all but extinct.
Enter Shawn Thomas, a longtime collector of historical artifacts with a strong focus on Lincoln. After meeting Porcu and becoming familiar with his talents as a sculptor and expert in "artistic anatomy," Thomas presented him with the challenge of sculpting a bust of Lincoln, one that captured "the essence of the man." Eventually, after carefully considering the project, Porcu and Thomas reached an agreement. Thomas commissioned the sculpture and began working closely with the artist. After a six-month collaboration—in an anachronistic relationship of patronage the likes of which has rarely been seen since the Renaissance—the bust was completed.
The "Thomas" Abraham Lincoln, recently exhibited at the New-York Historical Society, continues to attract national attention.
###
For more information, please visit http://www.frankporcu.com/index.html.
Media contact: Victor Gulotta
Gulotta Communications, Inc.
617-630-9286
http://www.booktours.com
victor(at)booktours(dot)com