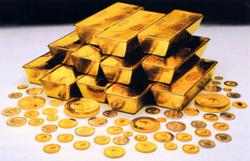 The Bullion Bank connects you directly with the gold market. You can rest assured selling your gold with them
Chantilly, Va (PRWEB) April 25, 2013
In tough economic times like these, it's always helpful to have a secondary source of income. One simple, risk-free solution to generate more money for individuals and families is by selling old or broken jewelry.
Experts at the Virginia cash for gold company, The Bullion Bank, offers tips on the Do's and Don'ts of selling gold.
DONT'S
1. Don't be afraid to sell your jewelry. When unexpected expenses arise, instead of using money set aside for other important items, you could receive a considerable amount of return for unwanted jewelry you have lying around.
2. Don't exclude ugly and/or broken jewelry, gold is gold. It could be broken and unwearable, or could be unattractive or possibly a gift you never wore and probably won't ever return.
3. Don't go to pawn shops. They give you the minimum pricing so they can get maximum profit. They also turn away items they deem "unsellable."
DO'S
1. Do go directly to a licensed gold broker, like The Bullion Bank. Gold brokers link you directly to the gold market and they sell gold bars and coins as well as offer refining services like cash for gold.
2. Do check reviews online before going to a store. Ensure that the store has a good reputation. Also after using their services- be sure to go online and write a review yourself, this will aid other customers seeking the same services in the future.
3. Do make a risk-free profit. Who doesn't want to fill their pockets with extra cash from jewelry they have just lying around collecting dust, or laying in the back of your jewelry box? The average customer at The Bullion Bank walks out with $606.00.
To find out more about cash for gold services or to purchase gold, visit http://www.thebullionbank.com for more information and locations.
Boilerplate/bio:
The Bullion Bank originated in 2008 as refinery cash for gold in Alexandria, Va. and still continues to purchase, invest and refine all forms of scrap gold, silver and platinum. Experts at The Bullion Bank pride themselves on their top-notch quality customer service and are committed to them only, as they work independently and are not influenced by any obligations to banks or other financial service providers. To see what The Bullion Bank can do for you, visit http://www.thebullionbank.com.