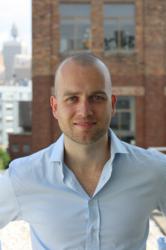 "Due to our low overheads we can quote extremely competitive prices for clients, usually coming in at less than 50% of the cost that a traditional law firm charge."
Sydney, Australia (PRWEB) April 26, 2013
Sydney-based online legal services website LegalVision recently launched their latest products. LegalVision is now offering fixed fee quotes for all legal projects booked through their website, http://www.legalvision.com.au. Customers can also now have any legal document created on the website reviewed by one of LegalVision's network of lawyers.
The company's existing core service is to provide customised legal documents, using sophisticated "question and answer" software. Their new offering takes the customisation process to the next level; for as little as $299.95 per document, customers can how have a lawyer from the LegalVision network review the document, discuss it with them over the phone and make any further amendments.
"Due to our low overheads we can quote extremely competitive prices for clients, usually coming in at less than 50% of the cost that a traditional law firm would charge," said Lachlan McKnight, co-founder and CEO of LegalVision. "By creating a document using our software, and then having one of our lawyers review it, customers get the best of both worlds; low fees through the use of software and the personal touch of a lawyer."
"Since launching, we've had many customers ask us to complete legal projects on their behalf, from acting on the sale of a business to arranging IP protection. We've therefore started working with a network of online lawyers to provide these additional services," McKnight adds.
The website currently provides a comprehensive list of agreement templates ranging from Confidentiality Agreements to Sale of Business Agreements and Contractors Contracts.
LegalVision works with a panel of lawyers who are all based online. The LegalVision team personally manage each project, so that their customers get the commercial result they want quickly and efficiently.
About LegalVision
LegalVision launched in December 2012 with the goal of providing businesses and individuals with access to legal services and documents that are both cost-effective and easy-to-use. Our bespoke software creates customized legal documents which have been reviewed by highly qualified Australian lawyers. Our network of lawyers can help with any legal project, big or small. To find out more, go to LegalVision.