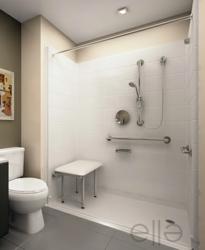 Enjoy warm air hydrotherapy walk in bathtubs from the comfort of home.
New York, NY (PRWEB) April 24, 2013
A national walk in tub and handicap shower provider announces warm air hydrotherapy will now be standard on several of the walk in bathtubs offered. This unique hydrotherapy technology is very different than a traditional style whirlpool type jet, whereas the warm air hydrotherapy utilizes tiny bubbles of air to massage the bather versus water jets.
There are many forms of hydrotherapy and it is utilized by several different industries in many unique ways. There are even several spas that offer hydrotherapy treatments, however the downside to a retail spa is the revolving costs and that customers typically must visit some type of commercial facility. The walk in bathtubs now offered will have air hydrotherapy technology pre-installed, which can assist in keeping the initial investment down for customers, not to mention long term costs.
The hydrotherapy products that Aging Safely specializes in can be installed into most residential locations, nursing homes and medical facilities. Several of these unique senior bathtubs come in standard sizes that can fit into most traditional size bathrooms. In many cases electrical upgrades won't be required for jetting features; however the hydrotherapy does require a low voltage connection which is concealed below the bathtub. The handicap shower systems do not have jetting options or require any electrical work. Customers that would like to have a local contractor install a bathtub for them are encouraged to hire a licensed company that specializes in bathtubs.
According to the company, air hydrotherapy is very popular for senior citizens due to the potential therapeutic benefits. It can be used as an all natural approach to numerous ailments such as poor blood circulation, back aches, strains and many other health conditions. It is recommended that customers visit their doctor to see if a hydrotherapy regiment is right for them. Senior bathtubs can also come without jetting options for bathers that would like to soak without any type of massage. Customers can also choose to install a bathtub without jetting or purchase a handicap shower stall as well which can be less costly.
Additionally, the company provides shoppers with safety grab bars, bathtub lifts, handicap shower stalls and walk in bathtubs with massage. Customers that are seeking options to make their bathroom more secure are invited to contact a representative for a no obligation consultation. Aging Safely sells bathroom safety products to all fifty states and Canada for supply only or full installation. Commercial inquiries are also welcome as the company offers wholesale pricing to accepted senior living facilities, hospitals and walk in tub re-sellers.
Contact Information:
Zach Wennstedt
1-888-779-BATH(2284)
info(at)Agingsafelybaths(dot)com