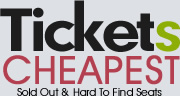 Chances are those looking for sold out tickets or premium seats at concerts, theater or pro sports events can buy tickets least expensively at Tickets-Cheapest.com every time.
Anaheim, CA (PRWEB) April 26, 2013
Rolling Stones concert tickets for their Over 50 Tour sold out most seats under $450 in a few hours for every performance in every city. With most of the tickets carrying an original face value of $250, no one can dispute the tremendous drawing power of The Rolling Stones even five decades after they first burst onto the music scene. To celebrate this great group and introduce their new Tickets-Cheapest.com website to more concert fans, Financial Firebird will offer a limited number of Rolling Stones tickets under $200 including service fees. With some sold out Rolling Stones tickets at $50 under original face value and no service fees, Financial Firebird proves their site stands out as the place where people can buy tickets cheapest.
To cement who really deserves the cheap tickets moniker Tickets-Cheapest.com compared some of their special Boston Rolling Stones tickets to competitors in the same section, or a nearby section when they did not carry the same inventory.
2 Tickets Including fees, upper section TD Garden Boston MA, Rolling Stones June 12
Tickets-Cheapest.com $199 each
CheapTickets.com $329 each
StubHub.com $265 each
AceTicket.com $316 each
Tickets-Cheapest.com also did an exact seat comparison for an Anaheim Rolling Stones tour date. This study involves the exact same tickets available from multiple sources. Prices in both studies include service fees but not delivery charges.
2 Tickets Including fees, upper section Honda Center Anaheim CA, Rolling Stones May 15
Tickets-Cheapest.com $198 each
StubHub.com $209 each
BuyCheapTicketsToEvents.com $221 each
QueenBeeTickets.com $221 each
Financial Firebird invites fans to compare Tickets-Cheapest.com to their favorite online ticket service. In a more extensive survey of ticket resale sites comparing the exact same seats Ticket-Cheapest.com offered lower prices than all 25 out of 25 competitors surveyed. Chances are those looking for sold out tickets or premium seats at concerts, theater or pro sports events can buy tickets least expensively at Tickets-Cheapest.com every time.
The Rolling Stones Over 50 Tour includes shows in Chicago, Oakland, San Jose and Toronto, Boston, Los Angeles, Philadelphia, Anaheim, Las Vegas with Montreal just going on sale. Inventory of these specially priced tickets will sell fast and when they are sold out there may be no more at these low prices. While Tickets-Cheapest.com maintains a very large inventory of Stones tickets for all tour dates in all locations, including premium seats, expect the best opportunity the buy the discount under $200 tickets in Anaheim or Boston with fewer tickets at or near these cheap prices in Los Angeles for the Stones at the Staples Center or the Chicago Rolling Stones show with some Anaheim Rolling Stones tickets selling as low as $182 including fees.
To buy these specially priced under $200 Rolling Stones tickets one must call Financial Firebird directly at 800 351 3301 Monday through Friday 9 to 5 Eastern Time and mention this promotion as well as where they found it. Note this offer of Rolling Stones tickets under $200 each with no service fees includes a very limited number of seats to be sold on a first come first served basis and when they sell out no more may become available. Also be aware delivery charges will apply, typically costing $15 per order. Those buying tickets online for any and all concerts including both the Rolling Stones and Paul McCartney may use the discount coupon code STONES2013 for the rest of the month of April for extra savings from their computer 24-7, but the for this promotion savings on the phone orders allows fans the ability to buy concerts tickets for even less.
Rolling Stones tickets for $50 under original face value with no service charges represents a cheap offer that won't last long, so call Financial Firebird now to buy Stones tickets while they last. Until they sell out operators have been authorized to apply the same level of discount to all concert, theater or pro sports tickets. All Stones concert tickets during this promotion receive similar discounts even if the ticket prices exceed $200, like seats at the Philadelphia Rolling Stones show. Other sites sell the exact same seats for more money, visit Tickets-Cheapest.com and save today while enjoying the exact same show from the exact same seat.
About Financial Firebird and Tickets Cheapest
The site to buy Cheapest Tickets online and its sister sites, including the site to find discount Broadway Tickets online, all geared for the consumers looking for low prices, are affiliated with the Financial Firebird Corporation Travel Group, and stand among the top sites sought by travelers and people who enjoy concerts, pro sports and theater performances. Financial Firebird Corporation, established 2000 and a proud BBB member, provides unbiased consumer information particularly involving consumer debt, software and marketing services. These sites for consumers to buy tickets online operate in the resale market and maintain no relationship with the venues or performers. The resale ticket market allows consumers access to popular events once the box office has sold out or to buy premium seats when the venue no longer offers any inventory. Within the group of these secondary market ticket services the Financial Firebird owned ticket sites offer lower prices than competitors. Find the site at Tickets-Cheapest.com