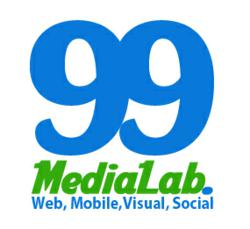 The launching of 99MediaLab's SEO services could prove to have perfect timing.
Stafford, VA (PRWEB) April 24, 2013
According to a recent study by the International Telecommunication Union (ITU) 75 percent of the two billion daily internet users never scroll past the first page of search engine results, but thanks to a new SEO service being launched by 99MediaLab, business owners across the globe will now be able to go from where they are right now to the first page of search results, quickly and easily.
"We're very excited about this new service," said Piyush Mangukiya, Managing Partner of 99MediaLab LLC, a full service web design and digital marketing agency developing websites, performing internet marketing for small businesses, startups, brands, causes and celebrities. "With the new Google Penguin and Panda rules, it's more important than ever for anyone in business to utilize SEO strategies to boost their search engine rankings."
Mangukiya pointed out that the company, which is a Google Adwords Certified Partner, will do all of the hard work that comes along with implementing proper SEO strategies.
The launching of 99MediaLab's SEO services could prove to have perfect timing.
According to a study by Slingshot SEO, which tracks marketing trends, SEO leads have a 14.6 percent close rate, while outbound leads, such as direct mail or print advertising have a 1.7 percent close rate.
When it comes to Google, the study revealed that 18 percent of organic clicks go to the No. 1 position, 10 percent of organic clicks go to the No. 2 position, and 7 percent of organic clicks go to the No. 3 position.
In that same study, tests for Bing show that 9.7 percent of organic clicks go to No. 1, 5.5 percent of organic clicks go to No. 2, and 2.7 percent of organic clicks go to No. 3.
"Search engine optimization is a technical and multifaceted process that requires extensive research and analysis in order to edit one's web site to increase its prominence in web searches," Mangukiya stressed. "SEO is a key marketing strategy for any business or individual hoping to increase traffic to their webpage. Providing organized and relevant content that is easily accessible to desired clientele is integral to increasing positive public exposure. However, SEO does not simply increase the exposure of one's webpage to all search engine users, but targets a core group of the desired market by providing information that is custom built for their expressed needs via keyword usage."
99MediaLab LLC, believes that SEO is the key to long term success for any business.
"That's why we've launched this service," Mangukiya said. "Our clients are very valuable to us, so we just want to ensure that they have a solid foundation now and in the future."
For more information on SEO and ecommerce web design services, please visit: 99medialab.com/online-marketing/search-engine-optimization and 99medialab.com/web-design-development/ecommerce
About 99MediaLab
99MediaLab LLC is an industry leader in the world of website design, internet marketing, app development, print design, search engine optimization, and all-around digital marketing.
With our Web Design, Development, Marketing and Branding services, we can take your business to the next level.
Our teams work together to develop websites that are not only visually compelling, but have the functionality and advanced programming to deliver leads, clients and revenues.
Contact Details:
99MediaLab LLC
115 Onville Road, Suite 201 Stafford, VA 22556
Tel: (703) 563-2571
Source: 99MediaLab LLC
###