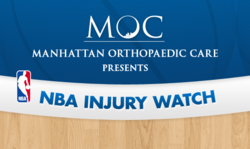 "But, as an orthopedic surgeon who understands how problematic it is to move with an injured body, I must say that what he does is very admirable and I applaud his strong will to stay by his team and help them score."
New York, NY (PRWEB) April 26, 2013
Two of Lakers leading players are injured, based on data from NBA.com and ESPN.com. Manhattan Orthopaedic Care offers detailed NBA injury watch analysis.
As they move to the playoffs, the NBA games bring a lot of dramatic moments for the LA Lakers. The team is being struck down with injuries and trail the San Antonio Spurs 1:0. The troubles began when Kobe Bryant hurt his Achilles heel, then 39-year old veteran Steve Nash began struggling with soreness and pain.
"Steve Nash is facing a very serious challenge. It's very difficult to move with soreness in your hip and hamstring, while still recovering from a broken left leg, which had him out of 24 games. It's also very dangerous because he could suffer some long-term and very painful consequences if he doesn't treat his injuries properly right away!" says Manhattan Orthopaedic Care's physician Dr. Armin Tehrany. "But, as an orthopedic surgeon who understands how problematic it is to move with an injured body, I must say that what he does is very admirable and I applaud his strong will to stay by his team and help them score."
Does Nash have enough strength to step-it-up and fill-in the experience gap left by Bryant's injury for the second game against the Spurs on Wednesday? The Lakers need experience and someone to step up, because Kobe will be out for up to 9 months due to this torn left Achilles'.
"He had received PRP in Germany for his left ankle, probably for Achilles tendinitis. The surgeons that operated on his Achilles are excellent. He should recover well and be able to play next season (if he chooses to)." says Dr. Armin Tehrany. He is optimistic that Kobe can recover and be ready to play again next season. "There is no doubt that he will be back to the court next year, showing his talent even more passionately than before" concludes Dr. Tehrany.
During this past week there were other injuries as well, but these two seem to be the most complex and most influential for the flow of the next NBA games. Manhattan Orthopedic Care has summarized all of those injuries in an interactive infographic available on their website. You can get more info by following this link.
About Armin Tehrany, M.D.
Armin Tehrany, M.D., is a certified physician at Manhattan Orthopaedic Care. Although he specializes in minimally invasive treatment of the shoulder and knee, he treats all types of orthopedic conditions, including those of the upper extremity, lower extremity, and spine. Dr. Therani serves on the Board of Directors for the New York State Society of Orthopaedic Surgeons, as well as the Physicians Advisory Board for the New York County Medical Society. His current interests involve the development of minimally invasive techniques in the management of shoulder and cartilage disorders.