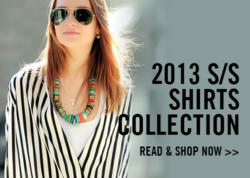 Lace clothing are delicate and lovable, you may be out of date if you do not have a lace T-shirt when the summer is coming soon.
New York, NY (PRWEB) April 26, 2013
In year of 2013, the trend of women's clothing is nothing more than all kinds of elements about printing, plaid, lace, deep V-neck and punk. Then as part of the clothing, the trend of T-shirt in this summer cannot be separated from these categories, but it still has its own characteristics.
"Among many kinds of women T-shirts, there are three types of popular T-shirts we should focus on and they are worth buying in this summer, that is, plaid t-shirt, printing t-shirt and lace t-shirt," OASAP fashion editor, Mrs. Mandy introduced, "Different from the women's dress, as long as you have these three types of women t-shirts, then you can omit all other styles of T-shirts in 2013.They are economical and affordable but fashionable enough to make you stand out from summer street styles".
"When it comes to wearing plaid T-shirt, a few things might come to mind", Mrs. Mandy continued her commend, "Along with Louis Vuitton's new-style checkerboard T-shirt becomes a trend from fashion circles, a lot of women brands launched the plaid T-shirt with their own characteristics immediately, for a time, plaid shirt occupied half of the fashion circles". When talking about how to match the plaid T-shirt, Mandy gave her own opinion, "Plaid T-shirts are so versatile that they can be paired with shorts, khakis, business casual slacks and denim jeans, and for a classic, all-American look, to choose a variety of short-sleeved plaid poplin shirt in a soft color and pattern".
"Lace T-shirt is definitely the most important trend in this summer!" OASAP Brand Director, Mrs. Yuki declared with emphasis, "Just take a look at the popular stars from the street shooting, almost all of them have a piece of lace clothing, a piece of lace dress, or a pair of lace pants, or a piece of lace blouse, and the most common, a piece of lace T-shirt is the must-have when they are out in the street shopping". Yuki also made a forecast about lace T-shirt to show her strong preference, "Lace clothing are delicate and lovable, you may be out of date if you do not have a lace T-shirt when the summer is coming soon".
Surprisingly, OASAP editors gave a same conclusion about printing T-shirt, "It's not so wise to choose a strong printing T-shirt because it will be too fancy, it's better to choose a printing T-shirt with good-looking pattern and high quality cloth which also will show your own style in the best condition", and they also gave their suggestion about it, "For those street style lovers, punk printing T-shirt, such as spike embellished printing T-shirt and skull printing T-shirt, and animal printing T-shirt, are two main types of printing T-shirts they are always pursuing for summer trend. It is worth mentioning that galaxy printing T-shirt is especially popular among the global trend gurus from the beginning of this year. These T-shirts are all on the top sales of Oasap.com from the beginning of March of 2013".
Miss Yuki also confirmed that OASAP.com will provide big discount for these T-shirts to help the fashion lovers to create their summer wardrobes, the new customer will share 20% off for the first order from now on, and all the users will enjoy $15 off on order over $80 by using code: 15USD-8, and $30 off on order over $150 by using code: 30USD-150, and shipping is free for all orders world widely.
..................................................................................................................................................
ABOUT US
OASAP IS: A High-street Fashion Online store
OASAP Likes to: Deliver fashion & love!
OASAP is a global online store dedicated to high-street fashion by offering various kinds of women's apparel, bags, shoes, jewellery, accessories, beauty products, etc.
OASAP was founded in late 2011, and has already grown to the leader of high fashion online stores. We keep updating products at a high rate every day. Now we update more than 600 new products each week. Those products mentioned definitely belong to the latest fashion trend.
OASAP's mission is to make you close to the planet's most cutting-edge fashion, no matter where you are or what class or age group you are in. Pursuing fashion is the right of every woman.