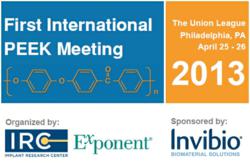 Global forum to share leading edge research on advancements in medical grade PEEK technology and clinical applications.
Thornton-Cleveleys, UK (PRWEB) April 24, 2013
The First International PEEK Meeting will convene April 25-26 at The Union League in Philadelphia, PA. The conference provides a global forum to share leading edge research on advancements in medical grade PEEK technology and clinical applications.
Medical device designers, material scientists and clinicians specializing in biomaterials are expected to attend. Podium and poster presentations will cover a wide range of PEEK topics including: properties, test methods and processing; biocompatibility; wear properties; modifications that alter cellular reactions; biomechanical performance of devices; and clinical performance and retrieval studies of PEEK based implants.
The conference is a testament to the rate at which PEEK is becoming the preferred implant material across a growing number of medical applications. More than 35 abstracts that cover applications as diverse as posterior spinal rods, self-tapping suture anchors, joint replacement bearing surfaces and patient specific craniomaxilofacial implants were accepted for inclusion in the conference program.
This inaugural meeting is organized by the Implant Research Center at Drexel University and the engineering and scientific consulting firm Exponent and supported by Invibio® Biomaterial Solutions, the global leader of PEEK-based biomaterials to the medical device industry.
Invibio strives to advance medical device innovation through support of robust PEEK research and development programs. Invibio has been involved in many of the research projects that will be presented at the PEEK International Meeting, through collaborations with industry and academia. John Devine, the Marketing and Technology Director at Invibio comments, "Since its inception in 1999, Invibio has invested heavily in basic science and applied research related to high performance implantable polymers used in medical devices. Sponsoring the International PEEK Meeting not only gives researchers and industry a forum for sharing and discussing their research, but also gives our customers a better understanding about how new PEEK-based compounds and processing techniques can be exploited to improve upon today's medical implants and practical advice for getting those new devices to market faster."
More information on the event can be found at http://www.medicalpeek.org/pub_reports/view/152.
About Invibio
Invibio® is a global leader providing high performance biomaterials, advanced technical research and consultative solutions to medical device manufacturers across a wide range of markets. The company provides medical device manufacturers with PEEK-OPTIMA® polymer and compounds, MOTIS® polymer, ENDOLIGN® composite and PEEK-CLASSIX® polymer for the development of long- and short-term implantable medical devices.
For more information, please contact Invibio at: 866 468 4246 or +484 342 6004 (U.S.), +44 (0) 1253 898000 (U.K.), +852 2366 4448 (Asia Pacific) or online at http://www.invibio.com., info(at)invibio(dot)com.