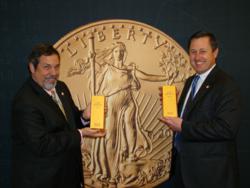 The world is getting richer and more people are buying physical gold and silver.
Beaumont, Texas (PRWEB) April 25, 2013
Two personal finance seminars at the upcoming National Rifle Association's Annual Meetings and Exhibits in Houston, Texas (http://www.NRAam.org) will feature America's Gold Expert®, Michael Fuljenz (http://www.MikeFuljenz.com).
The fourth annual Freedom First Financial Seminars will be held on Saturday, May 4, 2013, at 11 am and 2 pm in room 350 D/E at the George R. Brown Convention Center. The 90-minute educational sessions will be free and open to registered NRA members.
"The world is getting richer and more people are buying physical gold and silver. Even as gold and silver prices were recently dropping, the United States Mint was setting daily records for American Eagle silver and gold bullion coin sales," said Fuljenz, The Official Bullion and Rare Coin Dealer of the NRA.
Fuljenz and award-winning financial advisor Shad Ketcher of New Era Financial Group in Wayzta, Minnesota will discuss diversification of investments and why they believe gold is vital for long-term financial stability.
The sessions will be moderated by award-winning speaker Forest Hamilton. Hamilton is co-author with Brian Tracy of the best-selling book, "The Only Business Book You'll Ever Need," and is a Benefactor Member of the NRA.
Tim Fisher, NRA Office of Advancement Director of Planned Giving, will make introductory remarks to lead off the financial seminars.
A community leader in his hometown of Beaumont, Texas, Mike Fuljenz is an award-winning numismatic author of books and newsletters about rare coins and precious metals. He is a frequent interview guest on radio and TV news and personal finance programs and a Benefactor Member of the NRA. He is co-sponsoring the 2013 NRA Foundation banquet, the Institute for Legislative Action banquet and the NRA prayer breakfast.
Ketcher was recently honored again as a "Five Star Wealth Manager" in the Twin Cities and is a registered broker with the Financial Industry Regulatory Authority (FINRA).
In addition to the two financial seminars, Fuljenz will be meeting with the public during the NRA show, May 3 - 5, at booth #4616 to talk about gold coins and autograph complimentary copies of his latest gold guide. It was honored as The Best Dealer Publication by the prestigious Numismatic Literary Guild (NLG) and recognized as the best brochure by the Press Club of Southeast Texas.
Visitors to the booth can register for a chance to win a limited edition commemorative 1871 Colt revolver valued at over $5,000 that has an 1871-dated gold coin in the grip. The coin was minted in the same year the NRA was founded.
For additional information about the NRA Foundation banquet and the NRA Annual Meetings and Exhibits, visit online at http://www.NRAam.org.