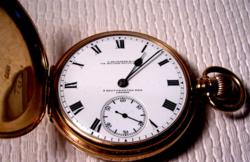 "Getting an online business profile for a start-up company is a key pillar that cannot be missed or ignored, it can support or demolish a brilliantly executed business."Ciaran Connolly, Co-Founder of ProfileTree
London, UK (PRWEB) April 26, 2013
With more than 15 years in the field of jewellery, Ian Dunbar started his own business, offering a professional yet personal service as a jewellery valuer. He talks to ProfileTree about starting a business, promoting the services and being professional and personal at the same time.
"There is no typical day (for a jewellery valuer)", Dunbar said of his business. As for advice on someone starting a business, he added, "Don't complicate it, keep the idea simple and clear and focus on the essentials".
As for the internet and social media, Dunbar said " The internet is a great tool, my website scores highly on Google search and I have a Facebook page and also Twitter, ... Social media plays a very important role these days and this will only get bigger, with the advance of Smart phones which are near computer power now."
According to Ciaran Connolly, Co Founder of ProfileTree "Getting an online business profile for a start-up company is a key pillar that cannot be missed or ignored, it can support or demolish a brilliantly executed business."
About ProfileTree: ProfileTree is a free listing service where self employed and small business owner can create an online marketing profile. From Pencil or Portrait Artist to Self Employed Service Providers - anyone can create a skills profile on ProfileTree for free.