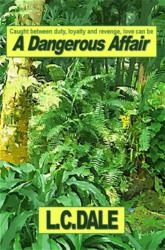 Explosive New Thriller
London (PRWEB UK) 26 April 2013
Drawing inspiration from a series of dreams, first time novelist Lesley Dale is getting ready to face the furor as she tangles genres in a high octane thriller that contains some candid and explicit sex scenes that would leave even James Bond feeling stirred.
"Crossing genres is always a risky thing to do in contemporary fiction," commented Sarah Luddington, Mirador's commissioning editor. "With luck, one ends up appealing to fans of both genres, but the danger is always that it might alienate everybody. It takes a skilled writer to pull it off and fortunately Lesley has the necessary skills."
Mirador have never been a publisher to shy away from a challenge and immediately recognised the potential in Lesley's novel, 'A Dangerous Affair'. "Ever since Fifty Shades of Grey, our submissions team have been flooded with copycat manuscripts," continued Sarah. "But this is the first one that looks to be a serious challenger as it brings in a new dimension, blending as it does the spy thriller so well with erotica."
'A Dangerous Affair' came to the author in a series of dreams where the characters appeared and demanded she tell their story. "I dreamt very vividly a scene in which a young woman looks at a man she has known all her life and suddenly sees him in a total different light. It stayed with me when I woke and I knew that I wanted to know more about these two people," said Lesley. "Then in the middle of trying to write Cassie's story, another scene in which two strangers, trapped in a dark place and unable to see each other become lovers, began to write itself. But it didn't fit with where Cassie and Dev were taking me so I put that to one side for a later story but it wouldn't go away and then the whispers of other characters kept creeping in."
"We are very proud to be bringing 'A Dangerous Affair' to the market," said Sarah. "Lesley Dale has a rare talent and whether this story sprang from some ethereal dream world or from the imagination of a very gifted writer, the result is the same; this is truly a magnificent first novel."
A Dangerous Affair is now available in all good bookshops and online stores in both paperback and all popular eBook formats.
Lesley Dale can be contacted via her website at http://www.authorpage.co.uk/lcdale/.
Mirador publishing can be contacted at http://www.miradorpublishing.com.