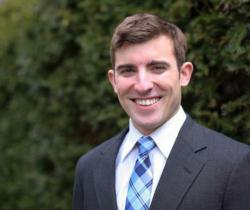 The day Logan turned seventeen, he enlisted in the United States Army
Boston, MA (PRWEB) April 25, 2013
Cambridge City Council candidate Logan Leslie announced his platform for "One Cambridge" as the campaign season gets underway.
Says Mr. Leslie, "Cambridge has two of the world's leading universities and thousands upon thousands of students pursuing every degree under the sun. To be exact, 22,000 live there, and 44,000 attend school there. The average Cantabrigian is 30 years old – yet no one on the city's Council is under 30. Cambridge has become the world capital of fresh, new ideas and I believe we need Councilors who embody that spirit."
In deciding to run for City Council, Logan has highlighted areas he feels needs the most attention such as creating jobs, empowering the base and energizing the youth, a safer and cleaner city, common sense leadership and higher standards for schools.
While Mr. Leslie will go into more detail as the election season runs its course, he wants to make one thing clear, he "is a father, a veteran, and a student, and he is proud to call Cambridge home. He's running for City Council to make Cambridge work better for all of its residents."
For more information on Logan Leslie and To Support His Campaign, he can be contacted at:
Logan Leslie for Cambridge
617-500-6636
logan(at)loganleslie(dot)com
http://loganleslie.com/