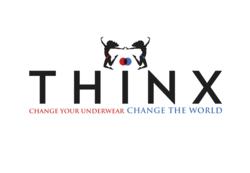 Part of our focus at THINX was to provide styles that would appeal to women at every level, whether she was in college with a limited budget, or a more mature professional who has a preference for elegant underwear made of superior materials.
New York, New York (PRWEB) April 24, 2013
This Friday, April 26, 2013, twin co-founders Miki and Radha Agrawal will be accepting the TriBeCa Disruptive Innovation Award, for the their social design innovation of THINX, a company that Miki and Radha co-founded with their partner Antonia Dunbar. Collaborators on this project include another set of identical twins, fashion designers Alexis and Kym McClay of NAVEN who are also recipients of this award for their design achievements with their women's apparel brand NAVEN as well as their design contribution to THINX.
Other honorees include worldwide musical sensation Psy (currently at 2.5 billion Youtube channel hits and counting), writer, director and filmmaker Morgan Spurlock of documentaries such as Super Size Me, and Twyla Tharp, legendary dance choreographer who will be presented with a Lifetime Achievement Awards for her approach to choreography.
Craig Hatkoff, the Tribeca Disruptive Innovation Awards Chief Curator says, "This year's event will showcase people from diverse fields who have all disrupted their industries in unique ways. With the power of new technologies and communications, people are increasingly able to disrupt the old model of doing things for more effective - and necessary - business practices like never before. And the collaboration between this set of entrepreneurial twins is definitely one of the highlights this year."
The Agrawal sisters, together with their friend Antonia Dunbar, began to discuss prototypes for the first designs of a smarter pair of underwear back in 2010 when they were on a trip to India. Their first motivation was to create underwear for women and girls that provides support for every day of the month, and after much research, they came up with a design that is a first-of-its-kind leak and stain-resistant underwear that includes anti-microbial and moisture-wicking technology support. Their second motivation was to help women and girls around the world.
"Currently, girls in the developing world are missing up to a week of school every month because they don't have the right resources during their monthly cycle," says Miki Agrawal, THINX co-founder and CMO. "They are using things like newspaper, leaves or plastic bags, and because of this and various other challenges, they end up falling behind and dropping out of school entirely, most often leading to early pregnancy and having no way of raising above the poverty level. To help solve this, we formed a partnership with AFRIpads based in Uganda (http://www.afripads.com), where every pair of THINX sold funds the production of 7 washable, reusable pads to help keep one woman employed and one girl stay in school."
THINX by NAVEN is a design collaboration like none other, where the NAVEN Twins incorporated their high-end, renowned design aesthetics into this new underwear concept created by THINX.
"Part of our focus at THINX was to provide styles that would appeal to women at every level, whether she was in college with a limited budget, or a more mature professional who has a preference for elegant underwear made of superior materials," says Antonia Dunbar, THINX co-founder and COO.
Alexis McClay, NAVEN co-founder and head of business strategy, echoes a similar viewpoint. "When Miki and Radha approached us to collaborate on one of the designs, we knew that this would help to widen the reach of THINX and its mission. We were excited to collaborate and help women around and world and couldn't be happier with the result. Girls supporting girls!"
The TriBeCa Awards is another chapter in the growing story for the THINX team as they are also fresh off their win in Boston for The Grommet Product Pitch challenge on March 19th and two successful crowd-funding campaigns with Kickstarter and Indiegogo (the latter of which is active thru May 1st). Looking forward to getting more and more people to know about the product and its double mission, THINX has much in store for the future and will be sharing the journey at http://www.thegrommet.com and http://www.shethinx.com.
About the honorees:
The co-founders of THINX are Radha and Miki Agrawal and Antonia Dunbar. Radha Agrawal founded Super Sprowtz (http://www.supersprowtz.com), a children's multi-media company whose ambassadors include Shaquille O'Neill and Rusell Simmons to inspire kids to lead healthier, happier lives. Miki Agrawal, who founded WILD (http://www.eatdrinkwild.com), a farm-to-table pizza concept based in NYC, is now launching another location in Las Vegas with Zappos.com CEO Tony Hsieh. Miki also has a book coming out called "Do Cool Sh*t" (http://www.mikiagrawal.com) which is set to release on August 1st via Harper Collins Publishing. Antonia Dunbar is a classically trained cellist and former PR/Advertising Executive who has spent the last two years managing and designing the first line of THINX.
The McClay sisters have spent the last several years leading their fashion brand NAVEN (http://www.naven.com) that has dressed countless celebrities like Kim Kardashian, Paris Hilton and Katy Perry and is currently in more than 700 stores nationwide with an upcoming show on The Style Network.
About THINX
THINX is a high-performance, yet beautiful underwear that's leak and stain resistant, moisture-wicking, anti-microbial and easily washable. The founders created THINX underwear to be the smartest underwear for "every day of the month." They paired this idea for developed countries with a "buy one-fund seven" model for developing countries through a partnership with AFRIpads, a Uganda-based organization that employs local women to create washable, re-usable cloth pads for women and girls in developing countries so that they can continue school or work on pace with male peers. For every pair of underwear sold, 7 cloth pads will be produced for women or girl in need.
About the TriBeCa Disruptive Innovation Awards:
The Tribeca Film Festival (TFF), in association with the Disruptor Foundation and Harvard Business School Professor Clay Christensen, father of Disruptive Innovation Theory, is pleased to recognize the innovative honorees from various disciplines and domains at the 2013 Tribeca Disruptive Innovation Awards. The event will be hosted by NYU Stern School of Business and will take place on April 26, 11 am - 1 PM, Paulson Auditorium, NYU Stern School of Business, Tisch Hall, 40 West Fourth Street (at Greene Street).
About The Grommet
The Grommet is a highly curated online marketplace and launch platform for products of great utility, style or invention that haven't hit the big-time yet. The Grommet seeks out these unique products, carefully tests them, and produces a video review of each one telling the story behind its creation. The Grommet is rooted in the philosophy of Citizen Commerce whereby regular people form the commerce experience by suggesting products that reflect their values and interests. Citizen Commerce turns the typical top down retailer approach sideways, encourages global product innovation from small producers, and satisfies the consumer's need to know the stories behind and origins of favorite products. The company was also just named one of the hottest sites of 2013 by Internet Retailer. For more information, visit http://www.TheGrommet.com.