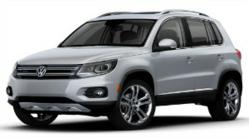 The reports provide comparisons of vehicles and fuel economy in a class. Easy interactive sorting of the reports and the monthly fuel calculation clearly puts things into perspective.
(PRWEB) April 26, 2013
This week, GasPump360.com profiles the Volkswagen Tiguan. The video explains the performance advantage of the Tiguan over other small sport utility vehicles (SUVs) while still maintaining decent fuel economy. The vehicle profile contains a link to compare the fuel economy of all the small SUVs.
In fact, there is a fuel economy comparison for each vehicle class with a unique monthly fuel calculation. Their "monthly cost of fuel" (MCOF) calculation is displayed on their reports for Low Mileage and High Mileage. These coincide with typical leasing mileage allowances. The MCOF is shown in US dollars on Gaspump360.com and in Canadian dollars on Gaspump360.ca. Fuel prices are updated weekly. The MCOF is a practical approach for consumers to estimate monthly cost of fuel when evaluating different vehicles in a class.
In addition to the monthly fuel calculation, what makes the reports at Gaspump360.com unique is having a comparison of all the vehicles in a class with interactive sorting capabilities. Cars that you may not have even considered become options. This approach to the reports helps prevent a "tunnel vision" perspective. The interactive sorting capabilities enable the user to analyze the data in ways best suited to their needs. To sort the interactive reports, simply click on a column header. The Interactive reports enables sorting by manufacture, vehicle, engine displacement, transmission, drive, turbo, fuel type, MPG and the monthly fuel costs.
The reports are based on data collected by the EPA (United States Environmental Protection Agency). Actual results will vary with driving conditions and how a vehicle is driven and maintained.
To view the free reports, go to: GasPump360.com.